Anxiety Unmasked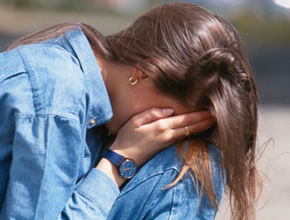 Anxiety nearly shipwrecked Kelly's marriage, her health – even her faith. When she admitted her need, God met her there.
All of us want to feel good about ourselves and be accepted by others. I wanted these things so badly that they became an obsession.

A struggle with self-acceptance
Although I was a Christian, I grew up feeling unacceptable. I never learned how to have a healthy self-esteem and looked constantly to others for love, acceptance, approval and affirmation. I became paralyzed in my fears and insecurities with life and people, which
These attitude patterns continued on as I entered Bible school at age 18. The fears of not belonging and the inability to handle the stress of the workload caused me to isolate myself. I felt completely alone, but instead of trusting God and being committed to Him, I spiraled downhill into a vicious cycle of anorexia. This was the only method of control I felt I had left. It was a time where I was consumed with fears and thought only of myself and not of others. There many times I was so close to death, and this part of my life would not be resolved until many years later.
Perfectionism to the extreme
In 1988 I met Todd, and in 1990 we were married. Within the next six years we had two beautiful girls. I should have been happy, but with each child I grew increasingly disillusioned about life. I felt like I was living a lie and I didn't know the true me. Extreme perfectionism drove me in maintaining my home and appearance, putting stress on my girls and my relationship with Todd.
From the beginning of our relationship, I looked to Todd to complete me and make me happy. Todd strove to pour himself into me, but I could not receive what he had to give because I could not accept who I was. I began to fear Todd's rejection, and in my fears I withdrew from him. The inevitable happened, and Todd withdrew from me, looking elsewhere to fulfill his needs for affirmation and understanding.
My concept of God grew increasingly warped as I saw Him as this huge being that was enormously dissatisfied with me and with what I had accomplished in my life, relationships and family. In my mind, God had become unattainable, untouchable and very angry with me. I honestly believed He could not love me.
The food I ate became poison in my body
I began seeing everything through negative eyes. I felt everyone was against me and my days were consumed with an unbelievable fear of everyone and everything, especially that Todd would leave me. In June 1997 my world came crashing down. Fatigue consumed me and over the next two months I developed a growing list of problems affecting my body. After beating myself up mentally and emotionally for so many years, I could no longer function normally. My weight dropped to 92 pounds, my vision became blurred, and I began to react to smells, chemicals and foods. What was healthy and normal for most people to eat had become poison for my body. Within 20 minutes of eating, I was in agony. The pain was incredible and excruciating. Every organ in my body began to break down, and I could no longer absorb food or nutrients; everything went straight through me.
At the point of complete despair, I sensed God's love and grace
We consulted many doctors and specialists and returned with no answers. They could only label me psychosomatic, which I interpreted to mean, "crazy." I felt 100% broken – mentally, physically, emotionally and spiritually. Todd was emotionally gone, and I felt abandoned by my friends and the medical community.
One night, in my desperation, I got in the car and left, planning to end my life. But as I drove, I began to cry out to God. God was at work in my heart, calling my name. Over the next days and months, I began to sense His presence in a new and deeper way. I felt His love and grace.
When I admitted my poverty and need of Him, God met me there. Then He began to reveal what needed to heal – my anger, insecurities and self-hatred. God was in the process of breaking down the masks I hid behind, things I considered my security.
A healing process began
There were many difficult days ahead for me physically, but I continued to trust God and He provided us with answers. Over the next four years, with the help of alternative medicine, much research and more doctor visits, my health slowly returned.
Central to my healing was a renewed desire to seek God and grow in Him through a personal relationship with Jesus Christ. I now look to God for my affirmation as a person. He is teaching me that it is OK to risk loving someone else, whether it is my husband, my children or a friend. He brought me out of the darkness of bondage and is healing my wounds and brokenness. He has shown me my true identity and for the first time in my life I am experiencing freedom in Christ. "I sought the Lord, and He answered me," says Psalm 34:4-8. "He delivered me from all my fears. The righteous cry out, and the Lord hears them, He delivers them from their troubles. The Lord is close to the brokenhearted and saves those who are crushed in Spirit. Taste and see that the Lord is good; blessed is the man [and woman] who takes refuge in Him."
To experience freedom in life and in Christ is an awesome thing, but it is also a journey. Healing doesn't necessarily come all at once. As we expose our hearts to Him, He will meet us there and heal our wounds. To be free in Christ is to learn to rest in Him and to look to Him as a source of strength. It is a daily choice to reach for Jesus and be committed to loving Him, serving Him and relying on His strength.
That daily choice involves appropriating the power He so freely gives us through the Holy Spirit. If you already are a believer in Jesus Christ, God has given you His Holy Spirit to help you live life according to His perfect plan. By allowing your life to be directed by the Spirit, you can increasingly experience intimacy with God and enjoy all He has for you. I encourage you trust Him and lean on Him.

God wants to be our leverage in living, empowering us to feel better about ourselves, more excited about our future, more grateful for those we love and more enthusiastic about our faith.

Why not pray this simple prayer and by faith invite Him to fill you with His Spirit:

Dear Father, I need You. I acknowledge that I have sinned against You by directing my own life. I thank You that You have forgiven my sins through Christ's death on the cross for me. I now invite Christ to again take His place on the throne of my life. Fill me with the Holy Spirit as You commanded me to be filled, and as You promised in Your Word that You would do if I asked in faith. I pray this in the name of Jesus. As an expression of my faith, I thank You for directing my life and for filling me with the Holy Spirit. Amen.