Stillbirth Miscarriage had me Questioning God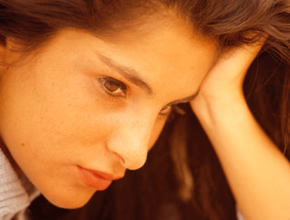 It's exciting to see God at work and be involved with Him in the small rural community where I live. But I didn't always feel this way.
As a teen, I was exposed to the gospel at a church camp, but the seed never took root. Like many people I knew about God, but I didn't know Him personally.
After graduating from college, I taught school for eight years before working with my husband to open our own restaurant. What a project! I must admit I saw dollar signs floating in front of my eyes as we planned and worked. During this time, I became pregnant for the second time. Our first child was four years old.
As so often happens, the Lord uses personal tragedy to bring us to the point of need and decision for Him. Five months into my pregnancy, I found myself in the hospital delivering a tiny baby who didn't survive. As sad as I was, I don't remember asking God, "Why me?" I just floundered around trying to keep my head above the wave of emotions that threatened to drown me at times.
"Why are you so downcast, O my soul? Why so disturbed within me? Put your hope in God, for I will yet praise Him, my Saviour and my God." Psalm 42:5 (NIV)
Finally, I mentally ended up in the bottom of a big, black hole faced with the very basic question of whether I really believed in God or not. It was actually a very simple decision at that point. Deep in my heart, I knew that there was hope with Jesus and chaos without Him. I chose hope, I asked God to become "personal" to me…to teach me about what a relationship with Him really means…to be my "hope-giver" and allow my life to reflect Him.
Since that time, I've experienced the personal love of the Lord. He has led me to good Bible-teaching churches to help me grow. He has caused my husband to become a Christian. He has blessed me with another healthy son. He has provided a successful business for our family. I've encountered one awesome experience after another. And the amazing thing is….God has allowed me to participate with Him in His work here on earth.
As I relate to people who are suffering and wondering why God isn't answering their prayers, I marvel at the whirlwind of His activity around me and what a hope-giver He is. I saw a young man give his life to the Lord just weeks before dying. I watched God provide a free car to a needy family within hours of their prayer request. I witnessed my seventy-year-old in-laws give their hearts to Jesus during the one Sunday a year that my husband serves as the substitute pastor.
The only requirement we must meet is to believe and have a little faith. I see daily that my Holy God, my personal hope-giver does the rest.
If you are a believer in Jesus Christ, God has given you His Holy Spirit to help you live life according to His perfect plan. He wants to turn your pain into something that can help you focus on Him. God wants to give you power so you can "GO" to others and share about His goodness in your life.
Why not pray this simple prayer and by faith invite God to fill you with His Spirit:
Dear Father, I need you. I acknowledge that I have sinned against you by directing my own life. I thank you that You have forgiven my sins through Christ's death on the cross for me. I now invite Christ to again take His place on the throne of my life. Fill me with the Holy Spirit as You commanded me to be filled, and as You promised in Your Word that You would do if I asked in faith. I pray this in the name of Jesus. As an expression of my faith, I thank You for directing my life and for filling me with the Holy Spirit. Amen.