Rein in Overeating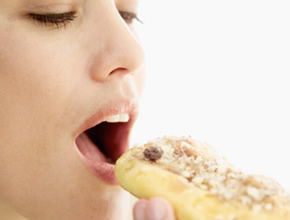 If you think you may be a food addict, you're not alone. Read about Mary's journey: Hungry for Comfort.
"I don't know what's wrong with me, doctor," Chris exclaimed. "For two years now I've been constantly anxious. I've suffered dizziness, trembling, butterflies in my stomach, diarrhea and insomnia. The tranquilizers I have taken for the past year haven't helped much at all. Are you sure you can't find something wrong with me?"
"No, physically you seem to be all right," answered the doctor. "Maybe you ought to have a talk with the psychiatrist."
While discussing her problems with the latter, she mentioned her coffee habit. "How much do you drink?" asked the psychiatrist.
"Well, I usually have from eight to 14 cups of coffee every day," Chris admitted. "Also I enjoy some Cokes and iced tea."
"Her total caffeine intake was approximately 1,200 milligrams every day," reported the doctor to the annual meeting of the American Psychiatric Association. "Since coffee, cokes, and tea contain high percentages of caffeine, large amounts of those drinks can produce essentially the same as an anxiety neurosis, which was what this woman was suffering from. After she cut down her caffeine intake, her symptoms cleared up."
Now many of us may enjoy a coffee break or two during the day, but Chris clearly overdid it! And I have known many good people who either abuse their bodies in this way or in overeating all the wrong kinds of food!
The danger of sweet stuff
When Kimberly was 16, she had a beautiful figure; but then various things happened that deeply depressed her. She took a whole box of candy bars to sell for a school project–and ate the whole box–and then another box. She gained 60 pounds! It took her a year to lose it.
The Bible says, "If you find honey, eat just enough–too much of it, and you will vomit" (Proverbs 25:16).
According to this Scripture, overindulgence in honey can be bad for us–and how much so sugar!
Just in recent years has medical science confirmed the danger of overdoing it in the sweets department, thus proving the validity of that Scripture written almost 3,000 years ago. According to the Encyclopedia for Healthy Living, "Concentrated, pure sugar is a drug, unrelated to anything that occurs naturally. For this reason it makes terrible demands on your body. First, it throws off the calcium-phosphorus balance and disrupts this entire important phase of your body machinery." Furthermore, it can rob our bodies of necessary B vitamins, which can result in nervousness, skin troubles, digestive problems, and many other disorders. In addition, too much sugar may lead to diabetes or its counterpart, hypoglycemia. Hypoglycemia can cause physical and mental problems.
Deliciously bad fat stuff
Intemperance in our partaking of too much caffeine or sugar are just two illustrations of how we may bring upon ourselves many unnecessary problems. In recent years doctors have increasingly recognized the danger involved in our having too much fat in our diets. In fact, only in the past few years have they discovered that this not only can result in our having heart attacks, but is also the main reason we gain weight and become obese and thus tax our whole systems.
Of course, God always knew animal fat was bad for mankind. About 3,500 years ago He warned His people, the Israelites, not to eat any of it (Leviticus 3:17). They were permitted, however, to drink milk and eat cheese. Even so, doctors say today that some fat is permissible. But most of us who have access to a wide selection of foods may overdo it; in other words, we may be intemperate in this area.
Emotional drives
One woman I counseled by e-mail told me that she suspected she developed the habit of overeating when she was young so that she wouldn't be so attractive to the relatives who began sexually abusing her when she was a child. And I think she's got something there!
But I think there's a deeper drive that causes abused or unhappy children, teenagers, and even adults to overeat. They find that eating gives them a satisfaction that somehow makes them feel better. So they fall into the habit of overeating whenever they feel depressed about something.
For those who have been sexually, physically, or emotionally abused, I believe part of the answer for deliverance lies in forgiving those who have hurt them. Why? Because deep within them probably remains feelings of anger, hostility, rage, and resentment; and these bad feelings continue to drive them to eat–or drink. We also need to seek God's forgiveness (1 John 1:9), and forgive ourselves, to cleanse us from any feelings of guilt we may have. For that too can drive us to overeat. Jesus told His followers that they were to forgive everyone who hurt them: Matthew 6:9-15. He also told them to love and pray for their enemies. (This helps us to forgive them.)
The Apostle Paul later warned the Ephesians to get rid of all bitterness, rage, and anger. "Be kind and compassionate to one another," he said, "forgiving each other, just as in Christ God forgave you."
Power to overcome
Many persons who overindulge in food or drink may feel they are powerless to overcome their habits. THEY may be; but GOD isn't! When an overweight minister friend of mine discovered the principle of reckoning himself dead to sin and alive to Christ (Romans 6), it convicted him of overeating and gave him the power to control his appetite; in several months he lost 18 pounds.
According to Galatians 5:22-23, true self-control is a fruit of the Holy Spirit, a virtue with which we are endowed when we completely turn over our hearts and lives to the Lord and seek daily to walk in His power, to abide in Him, to reckon ourselves dead to sin and alive to Christ (Romans 12:1-2; John 15:5; Romans 6:4-12). Through His Spirit God gives us the power to overcome our appetites. Through His Word He exhorts us to obey His wise counsel and to use that power to overcome.
First Corinthians 6:19-20 tells Christians, "Do you know that your body is a temple of the Holy Spirit, who is in you, whom you have received from God? You are not your own; you were bought at a price. Therefore honor God with your body." When we follow this Scripture, we'll enjoy a much better life in good health and vitality while we remain here on earth!

Do you need the Holy Spirit to help you practice self-control? If you have accepted Jesus Christ as your Lord and Savior, God has given you the gift of His Holy Spirit who lives within you, to guide you and empower you to follow His ways in your life. Why not take a moment to pray this prayer and yield your life anew to God? He is faithful to keep His promises and desires for you to keep in step with His Spirit.
Dear Father, I need You. I acknowledge that I have sinned against You by directing my own life. I thank You that You have forgiven my sins through Christ's death on the cross for me. I now invite Christ to again take His place on the throne of my life. Fill me with the Holy Spirit as You commanded me to be filled, and as You promised in Your Word that You would do if I asked in faith. I pray this in the name of Jesus. As an expression of my faith, I thank You for directing my life and for filling me with the Holy Spirit. Amen.
If you prayed this prayer, we would love to hear about it!