Petunias, Loneliness and Faith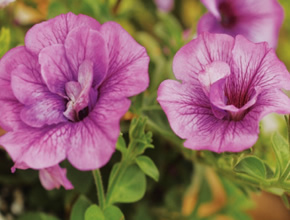 Many home gardeners, including myself, love the graceful, many-colored petunias that bloom all summer. I found that when a petunia springs up by itself it reverts to original form and color, which may not be as attractive as hybrids, though its fragrance is much sweeter.
The fancy petunias we have today were hybridized from two original species and come in all kinds of mixed colors, in singles, doubles, ruffled, crisped, marked with stars, eyes and margins.
Lonely as a petunia
Some years ago a song naming the petunia was popular: "I'm a lonely little petunia in an onion patch," it went. And sometimes as Christians we may indeed feel that way. We may be the only ones in our families, neighborhoods or work places who love Jesus and try to follow Him. For that reason those around us may not understand us and might even make things unpleasant for us. How can we handle it without feeling sorry for ourselves and miserable?
The Bible says that we who follow the Lord are strangers and pilgrims in this world. It's not our home. Fellow believers who lived during Old Testament times only saw the promise afar, yet by faith they lived and suffered for the Lord. We now know the whole way of salvation and of how our Lord himself left heaven's glory to become a stranger and pilgrim on earth for our sakes.
We know that He too must have felt lonely at times, for even His followers often didn't understand Him – and eventually betrayed or deserted Him. So our Savior understands every heartache, every pang of loneliness we have and He can give us all the grace and guidance we need.
The apostle Paul wrote his spiritual son Timothy, that all in Asia had turned away from him when he was a prisoner. But according to the letter to the Philippians, he had learned to rejoice in the Lord always. That surely must have lifted him above the depression and lonely feeling his circumstances prompted in him.
Rejoicing in the Lord restores our faith
I have found that praising the Lord and rejoicing in Him has lifted me up many such times. I may not feel like rejoicing in the Lord, but I start doing it anyway, thinking of the things I have to be thankful for. In a few minutes I find that I am rejoicing from my heart and the gloom is dispelled.
We are strangers and pilgrims in this world and have a far better country called heaven to look forward to, just as those saints of old did. There we will find fellowship with the Lord and with our true brothers and sisters for eternity. God will wipe away all tears; there will be no more sorrow or death or crying. Look up – and praise the Lord!
"Oh, Lord, I glory in you, my redeemer, my rock, my strength, my master, and my friend!"