Your Faith Adventure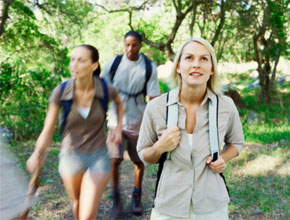 We are filled by the Holy Spirit by faith; we can experience the abundant life which Christ promised to each Christian. You have to ask yourself: Is this the life for me?
Every day can be an exciting adventure for the Christian who knows the reality of being filled with the Holy Spirit and who lives constantly, moment by moment, under His gracious direction.
God has provided for us an abundant and fruitful Christian life so why is it that most Christians are not experiencing the abundant life? Jesus promised the abundant and fruitful life as the result of being filled (directed and empowered) by the Holy Spirit.
The Spirit-filled life is the Christ-directed life by which Christ lives His life in and through us in the power of the Holy Spirit (John 15). You too can know the adventure of a full, abundant, purposeful and fruitful life in Christ!
What does the Spirit-filled life look like?
It's the key to a powerful Christian life and the source of joy, victory and fruitfulness and yet, many believers neither comprehend or experience the Spirit-filled life.  Just how do we follow the command to "be filled with the Spirit?" (Ephesians 5:18b) And how does it affect our daily life? Here are videos of three "word pictures" that you can use to deepen your understanding and illustrate for others what it means to be empowered by our Helper, the Holy Spirit.
The Chocolate Milk example

The Spare Tire example

The Guest or Resident example
If are considering starting a faith adventure, have questions, or just want a listening ear, we'd love to hear from you. Just go the mentoring page and one of our email mentors will respond. All emails are responded to personally and privately.
Questions about your faith
What does my relationship with Christ look like?
How can I walk in the power of the Holy Spirit?
How can I grow in my faith?
Questions about the Holy Spirit
How do I share my faith?
I have lost hope. Is my life worth it?

My faith adventure
Millions of people the world over have made the decision to allow the Holy Spirit to direct and lead their daily lives and start a faith adventure.  Here are some of their stories.
Success to Significance – I was challenged to think about what I had accomplished in my life and what I would do over the remainder of the years I may be allowed to live.
My Dreams Were too Small – When I was a young girl, my dreams weren't much different than most girls. But the Lord graciously showed me that my dreams were too small.
New Beginnings – I wasn't really sure of my own opinion on the existence of God, and honestly, I didn't care but something was missing from my life.
Starving for Life and Loveliness – Have you ever felt like losing five pounds? I have -and it turned out to be the beginning of a 10 year diet which nearly killed me.
Broken on the Back Row – I felt very far away from God. It was not a comfortable place to be but it was nobody's fault but my own.
Finding Healing After Betrayal – I was desperate, dissatisfied and in great despair. For 12 years, my wife and I had been hiding our broken and dishonest marriage.