Stepping Out in Faith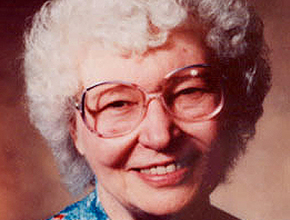 My husband was gone–and now I would have to determine how I would support myself and my five-year-old younger daughter. I was offered a full-time job in the downtown office where I had done some part-time work. "Oh, Lord," I prayed, "what should I do?  I hate the thought of putting Lori in the care of others all summer and after school. She's such a sensitive child!"
"Well," came the still small voice, "why don't you step out on faith and become a full-time writer for me?" Writing on a part-time basis, I had had a number of articles and three books published.  But I certainly hadn't earned nearly as much as it would cost us to live!  What should I do?  Was this my Lord calling me?
Unique sign from God
I remembered then the unique circumstances ten years before I was called to write for Him. My husband was moving from our church in Wisconsin in order to become the pastor of an Illinois church.  The president of the bank for which I worked part-time asked me to continue working there for two more weeks, even though we were moving that weekend.  "We'll provide a place for you to stay and pay for all your meals," he said.
The request and unusual provisions it contained seemed exceptional to me.  It would mean my being separated from my husband and my teenage daughter during that time.  My first impulse was to refuse.  Then the thought struck me, "Is God's hand in this?"  That night my husband and I prayed about the matter.  In the morning I awoke feeling it was God's will.  My husband agreed to the arrangement; we could use the money.
I went to stay at a maiden lady's house for two weeks.  She had no TV or radio and was gone a lot.  So I began visiting the library a block away.  While there I discovered what I considered a gold mine.  A fledgling writer, I had just sold my first article several weeks before.  Now I came across a handbook for writers that included a detailed list of markets for articles, including quite a few under "religious."
It was a reference book, and furthermore, I was not a resident; the librarian wouldn't let me take it out.  BUT–the lady I was staying with was one of her best friends!  So she let me have it.  I spent almost two weeks studying the articles on writing and selling, and jotting down information on the various religious markets: names, addresses, editors, what they wanted, and word lengths.  When I joined my family I was ready to launch into my writing career.
Decision made
Now I knew what I should do!  I should step out in faith to serve the Lord full-time and trust Him to supply all our needs. Toward the end of the second month on faith, I talked to the Lord. "Lord, you know I haven't received any checks this month, and the rent and utilities are coming due. Please help!" During the next several days the checks came in to pray for those bills. Another book was accepted for publication as well as a number of articles.
My brother was a professor at a university where we lived. He also moonlighted and taught at a technical school. And he managed to get me a three-hour course to teach for secretaries during the next semester. So that helped out too.
So I was there at home for my little girl.  Instead of spending my days and years in a secular job, I was serving my Lord full-time, reaching and influencing for Him thousands of people through the printed page. The Lord wonderfully supplied all our needs, including a lovely home I was able to buy.
I have written all kinds of articles and therefore have been published in various fields. My fiction stories and nature, inspirational, devotional, and church leadership articles and have appeared in many denominational periodicals and Sunday School papers. Writing hundreds of personal experience stories opened the door for me to interview many fascinating people and record and write their interesting stories. Among them were people like Dame Corrie Ten Boom, Glenn Cunningham, and missionaries to all the world.
Since I stepped out by faith I have had published 14 more books, 8,000 more first and reprint writings, and 46 more Christian songs (words and music–I'm a musician also). I have written curricula for three Christian publishers and taught at a number of writers conferences across the nation.
Eventually I earned my doctorate in Christian Education and counseling; and now as "Dr. Muriel," I give advice to the worldwide readers of several Christian online magazines.
Joy in God's Leading
The Bible tells us to trust in the Lord with all our hearts, and not to depend on our own understanding.  If we acknowledge him in all our ways, and he will direct our paths" (Proverbs 3:5-6).
Oh, how thankful I have been that I listened to my Lord and followed His leading! At that time I had heard that only about 600 free-lance writers in the USA were able to make their living at it.  Ordinary common sense might have pleaded the odds with me.  And this is true for many of God's people, I think.  Yet it's also true that God leads His individual children in ways that seem to defy the odds. For with Him, nothing is impossible!
As William Newton Clarke said, "Faith is the daring of the soul to go farther than it can see!"
God has a special work for each of us to do for Him.  Has He spoken to your heart about your assignment?  If you know it's from the Lord, accept it with joy and step out on faith plus nothing but–HIS FAITHFULNESS!
You are not on this journey alone. You can find peace and joy even when facing an unfamiliar future by asking God to fill you with His Spirit.  God wants to be our leverage in living, binding-up the broken hearted.  You are not alone in this.  God has left His Spirit as a deposit on what is to come – the hope of Heaven (2 Cor. 1:22).
Just as our relationship with God depends totally on what God has done through Jesus Christ, so the power to live the Christian life also comes totally from God. To live the Christian life as God intends, we must continually draw upon God's power, through the Holy Spirit. As we allow the Holy Spirit to fill and control us, He will produce godly character in us and enable us to tell others about Christ.
Why  not pray this simple prayer and by faith invite Him to fill you with His Spirit:

Dear Father, I need you. I acknowledge that I have sinned against you by directing my own life. I thank you that You have forgiven my sins through Christ's death on the cross for me. I now invite Christ to again take His place on the throne of my life. Fill me with the Holy Spirit as You commanded me to be filled, and as You promised in Your word that You would do if I asked in faith. I pray this in the name of Jesus. As an expression of my faith, I thank You for directing my life and for filling me with the Holy Spirit. Amen.