Victorian Tea Parties with a Purpose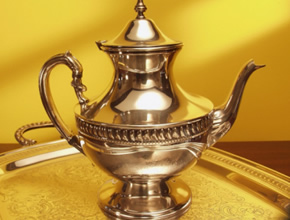 "The very act of preparing and serving tea encourages conversation. The little spaces in time created by teatime rituals call out to be filled with conversation. Even the tea itself–warm and comforting-inspires a feeling of relaxation and trust that fosters shared confidences."(Emilie Barnes, "If Teacups Could Talk")
Picture yourself and your friends seated around a table amidst dainty food, silver spoons, classical music, china cups and scented nosegays Between sips of smooth, warm tea, you chat freely about your lives.
What more non-threatening environment could there be to share the love of Christ?
For many years, Power to Change Ministries has used home-based evangelistic parties to reach women for Christ. Victorian teas are a new twist on this idea, and the Lord is really using them for His purposes.
With ideas and support from Power to Change Ministries, Christian women are getting together with a few friends to host the teas for their non-Christian friends, neighbors and co-workers. So far, the teas have been very effective in reaching women of all ages with the gospel.
Anne Feenstra of Abbotsford, British Columbia recently hosted a Victorian tea. She shares her experience in the following interview with Power to Change Ministries with the hope that you, too, will be inspired to talk and pray with your friends about hosting a tea party with a purpose.
Power to Change Ministries: Why did you decide to host a Victorian tea?
Anne: I wanted to impact my community and I love entertaining. This seemed like something I could do in my own home. It wasn't overwhelming to me–like going out on the street preaching.
Power to Change Ministries: Who came to the tea?
Anne: There was a team of three of us that organized the tea. We invited our non-Christian friends and we also invited Christian friends to invite their non-Christians friends. We told our Christian friends to come only if they brought a non-Christian with them, as the whole purpose of the evening was evangelism. We had 31 people attend the evening, and at least half of them there were non-Christians.
Power to Change Ministries: Which part of the evening excited you the most?
Anne: Actually seeing the results! We were all trusting God that there would be some people there that would make first time decisions for Christ. There were seven people that indicated that they had prayed to receive Christ and one that had made a recommitment.
Power to Change Ministries: What are you doing for follow up?
Anne: Each of the people who prayed have been sent a Knowing Jesus Personally magazine. In many cases, the individuals who invited them are continuing to encourage them, answer questions, invite them to church and just love them.
Power to Change Ministries: Why do you think this idea works so well?
Anne: Women love to be pampered, and the Victorian tea theme gives a certain elegance to the gathering. It rained the night of our tea. At first we were disappointed that the weather wasn't better, but we decided to have our sons meet each woman at her car with an umbrella and escort her into the house. It really broke the ice and each woman came in laughing and feeling special. God had it all planned, right from the start.
Another part of the appeal is simply the intimacy of a home. Sometimes people are apprehensive about going to a church, but most people are pretty comfortable in a home. Having a team of neighbors host the tea also really worked well. The three of us were so excited and enjoyed such camaraderie as we worked on this. I hope they say, "Let's do it again!" I really want to do another one!
The Sunday after the tea, we had an "angel party" with our three families and rejoiced together in what God had done. Our churches were really supportive too, praying with us, loaning us some chairs and rejoicing with us when we saw the results.
Power to Change Ministries: Any suggestions for someone who is thinking about hosting a Victorian tea?
Anne: Go for it! You'll be blessed and you'll bless others.