Communicating with Aging Parents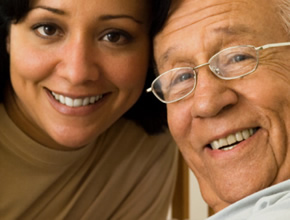 Ready or not the time comes when we notice Mom or Dad has slowed down or we race through the night to be by their side in the midst of crisis. We step in from our busy lives and try to take charge. We know it's our turn to step up to the plate and help them out. We are surprised when we find our parents hard to communicate with and seeming stubborn and un-cooperative.
We are unprepared for this communication impasse. They are unprepared to face the predictable dilemma of aging. Two areas take center stage.
Managing the battle for control
A little history gives us some perspective. Our parents lived the major portion of their years in a communal society that was poor in resources but rich in support. They maintained control through the peaks and valleys of life. They solved their problems as best they could and they carried on. Now, faced with the changing landscape of their lives, they see that control eroding. They are desperate to hang on to it. We need to understand the significance of helping them manage and maintain control.
Searching for the legacy
Everyone needs to feel that their time on this earth has made a difference. Understanding your own life legacy becomes an important task.
The final years are perhaps the most complex and demanding period of our parents' lives. There is a storm of growth taking place as their brain reconfigures.
Research shows that the multi-tasking powers shift into low gears as the abstract thinking of analysis and comparisons moves into high gear. This is where the wisdom of age finds it's glory time.
Learn the questions
Understanding the right questions to ask can help "reframe" these often chaotic
times of change and help both aging parent and adult child to navigate these new waters.
Learning how to take a Control Inventory and assessing together the choices and options available can make a vital difference in the day-to-day reality of these changing times.
Choosing the right signal words and understanding how to employ action verbs can leave the parent with the confidence that he or she will have the right to input on matters of power and status.
Understanding the importance of allowing them to openly review their life and retell their stories gives opportunity to draw new conclusions from the vantage points of wisdom.
Asking and listening opens the life legacy door to help the parent value the treasures and mourn the losses of all their life held.
The social fabric of the lives of aging parents shifts and changes as friends and even spouses pass on. Taking the time to learn how to care will help them maintain control, understand their legacy and protect their dignity.