Changes in Family Dynamics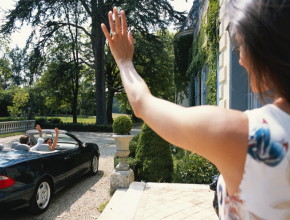 The transition to college isn't limited to the students. Parents and siblings also experience growing pains. When the Glenny's two daughters, Courtney and Brittany, left for college, she and her husband, Dr. W. Edward Glenny, were amazed how quiet the house became. "We went for days without the phone ringing. Our food bill was cut in half and food was spoiling in the refrigerator."
When Holly Butler left for college her parents, Phil and Jeannette, noticed the loss of their household's third driver. "It became a struggle to get everyone where they were supposed to be in a timely fashion," explains Jeannette.
While Holly's parents found it hard to leave her at college that first time, her siblings experienced changes in their relationships. Holly and her 16-year-old sister, Mindi, actually grew closer despite the separation. While 13-year-old Dale was lonely for Holly at first, he soon found a new companion in Mindi.
The Glennys rebuilt their togetherness and found themselves talking more. "In a sense, it was like we were first married. It was easier to keep the house clean, no one was asking to borrow the car, there was less laundry and more leisure time."
Often the child's departure leaves a gap parents try to fill with work, church, community service, hobbies, etc., explains Dr. Don Johnson, professor of psychology at Northwestern College. A couple needs to develop shared interests separate from the children long before the children leave home. "Not only do you need to work on the parent-child relationship, but the parent-parent relationship," he says. He explains that without shared interests, couples often seek out interests separately and end up creating a new gap, this time between each other.
The issue of parenting from a distance also needs to be considered. "We get a late night phone call and our first response is to run to their aid, but we resist and let them solve their own problems," Glenny says. Yet she realizes her daughters are on the brink of two worlds. "At times they want to be independent and don't want our help. At other times they are clingy."
Visits home for the holidays or summer vacation are another transition. "Clearly communicate expectations," Johnson advises. "Don't make it a power struggle or control issue; kids see through that."
He explains that even though curfews won't work anymore, parents are entitled to know their children's whereabouts just as children need to know their parents' whereabouts. "How would the kids like it if they kept calling their parents and find out from the neighbors that they are on vacation for six weeks. It's simple courtesy and common sense and gives all a sense of security."
Glenny agrees. "We talk about expectations, such as knowing when and where they are going. Yet when discipline is needed – if they cross boundaries or push limits – we hold back tuition or expense money."
Related reading:
Video: Affair-Proof a Marriage – Can you prevent affairs from ruining your marriage?
Healing a Marriage – How Sue's first husband also became her third husband.
Courtesy of ARA Content