Single Mom Survival Kit 3: The Monster Called FEAR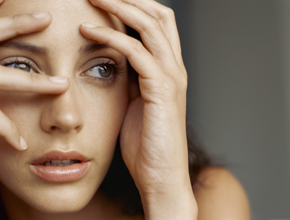 Is there something wrong with me? Will anyone ever love me again?  Have you caught yourself asking these questions? Have you worried about how you're going to figure out finances and look after the home while juggling your children's lives? If so, you are not alone. When I first became a single Mom I asked all these questions too.
When you become a single Mom your life suddenly turns upside down. It seems that fear can become as much a part of life as breathing.  I had no partner to help me so I began to balance the bank books, figure which bills to pay first, do the outside work, and the most importantly, be a stabilizing factor for my children. Fear gripped me so tightly.  As each week ended, I was afraid to start the next because of what might happen.
Fear can be overwhelming
Fears can make us feel like we are standing in a corner and totally out of control.  If we let it, fear can consume us and be the monster under our bed.  Max Lucado wrote a little booklet called, "Imagine Your Life Without Fear".  If you get a chance to purchase this little 46 page booklet, it is powerful.  (Booklets are available on Lucado's site, just $2 for a pack of 5 http://www.maxlucado.net/fearless/fearless-booklets-5-pack) I quote, "Fear, at its center, is a perceived loss of control."

Do you feel that your life, like mine, is out of control? For me, each new day was a challenge and fear controlled me if I let it.  I could easily get my mind worked up and try and figure everything out.  Honestly, life doesn't work that way.
2 Timothy 1:7 says, "God's Spirit doesn't make cowards out of us.  The Spirit gives us power, love, and self-control." (CEV)  Now doesn't that sound empowering and freeing! God will help us as we move ahead. Tap into God's power.  Will we still be afraid? Of course, but don't let that fear grip you. Begin to work through the fear and ask God to help you to have power, love, and self-control.
Fear can be overcome
I remember knowing in my spirit that it was time to move out of the city where I was living.  I didn't have any family support in the area, so as I asked God for direction He clearly opened doors.  It wasn't easy.  Moving meant packing up the house, getting a new job, pulling my kids out school and dealing with my ex-spouse's reaction to my decision. I could have curled up and said forget it because I was afraid, but God gave me the power to make the move.  Everything fell into place.  It was tough, but it was right!
Why not spend a few minutes writing out what you fear the most?  Sometimes when we write it out, it becomes easier to face. When you have your list complied, see what solutions you feel you can reasonably tackle. If you are having difficulty with solutions, call a friend who can help you ask questions and work through the list.  When we let go of fear, we can start to think of this new life as a new adventure with many possibilities. There will still be challenges.  But fear won't be your only response to those challenges. You'll have the strength that comes from knowing you can make choices for your family.
You are not alone 
As I read the Bible, I am comforted to see that other people have fearful challenges too.  David had to face the Giant, The Apostle Paul preached to angry leaders of the law who had stones in their hands to harm him, Peter denied Christ, and the disciples faced drowning in a stormy sea.
Face your fears; don't hide from them.  Call to God for help, He's your lifeline. David killed the Giant, Paul was granted safety, Peter was given forgiveness, and Jesus' calmed the stormy sea.  Ask God for wisdom as you face your fears.  Talk things over with a trusted friend.  Don't let fear control you.
God assures us that He knows our worries and He understands. Psalm 55:22 says, "Our Lord, we belong to you.  We tell you what worries us and you won't let us fall." (CEV) In I Peter 5:7 it says, "God cares for you, so turn all your worries over to Him."
As you face the day today, what areas of your life can you begin to release from fear? Do you believe that God won't let you fall?  Who can you call to help you work through these fears?
Father in Heaven, we are so thankful that You want us to lay these fears at your feet. Fear can grip us and keep us from moving ahead. Help us take step after step into Your freedom.  Give us Your wisdom to begin this journey.  We thank you for Your Spirit that gives us love, power and self-control.  In Your Powerful Name, Amen.
There is HELP, there is HOPE, there is HEALING!
Don't miss the rest of The Single Mom Survival Kit:
Part 1: A box of resources
Part 2: How to set boundaries
Part 3: The Monster called FEAR
Part 4: Testing, testing, 1, 2, 3
Part 5: Making memories
Part 6: Good grief
Part 7: Life as it is
Part 8: The blame game
Part 9: Bucket full of dreams
Part 10: Looking back on it now
Take the next step: