Find your best colors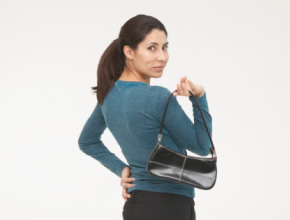 There are no good or bad colors, just ones that are right for you! You can wear almost any color if you learn to choose the right shade and intensity that will enhance your skin tone. Wearing that perfect color can take years off your appearance and brighten your look.
Your best colors will be determined by a combination of factors including your natural hair color, eye color and skin tone. Take a look at the undertone of your skin in natural daylight and this will help you to determine whether you are a "cool" or a "warm" toned person. Cool toned people tend to have a pink or rosy skin tone. Warm toned people will have a more golden or apricot undertone. Cool toned persons will look best in blue-based colors; warm toned persons will look best in yellow-based colors.
This season's delectable, bright hues can be added to your wardrobe, just follow these easy suggestions for a fresh new look!
Warm tones
These can be crisp or muted; they include natural earth colors with gold translucent undertones.
Most people with the warm skin tones look great in the new mochas, bronzes, sage greens, and delicious mango oranges. If this is your skin type you may also want to try the softer warm tones of peach or apricot and the new summer yellow and apple greens.
If you prefer reds, then look for the clear brick, a dark tomato or the burnt orange hue.
Earth greens like olive, moss, or jade enhance the warmer skin tones.
This summer you may want to add a few items with the fresh lime, grass or celery greens.
Crisp ivory or oyster whites also enhance the warm skin tone type.
Colors from camel to warm taupe to bright navy will fit well into your professional wardrobe. Brown in your shoes and gold in your glass frames are part of your ticket for impact!
Cool tones

These are rich, true colors that have blue undertones.
Cool toned people can wear the vivid blue red beautifully; add the rich raspberries, deep emerald greens, royal blue, plums or pure black.
The softer pastels from the blue range and rose-based pinks also nicely enhance the cool skin tones.
From the green palette choose the emerald and icy greens, as well as the aqua blue green from the very light pastel shades to the deeper tones.
The pure white or a soft white looks great with the cool skin tones.
Clear lemon yellows and rich colors like ruby and sapphire will sweeten your wardrobe.
A key color this season is the aquatic blues and a whole range of tones that evoke the deep ocean hues. Add some of that high voltage pink to sweeten your day!
Color can be compelling and daunting, so have some fun and dress up your wardrobe this season!