9 Steps to a Great Fake Tan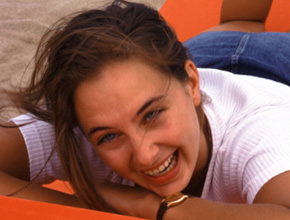 No matter how good the product, if you don't take extreme care in application, you'll end up looking like an orange zebra. Follow these tips and you'll be the toast of the town:
Skin preparation – If you have dry skin–and most of us do when it comes to arms and legs–start prepping a few days before applying the tanning product. Moisturize two to three times a day, especially right after bathing. Use a gentle exfoliant all over three days beforehand as well as the day of applying self-tanner (beforehand). Also, apply a thick salve-like cream to especially dry parts like elbows, knees and hands and let it soak in to soften skin. Self-tanner will "grab" on especially dry areas and look unnatural, so get those areas softened before proceeding.
Before applying – Test the self-tanner on an inconspicious part of your body (like the inner elbow) before slathering it on all over. We know you never test, even though we always warn you that you must, but trust us on this one. Self-tanner doesn't wash off easily at all. Testing will save you from having an hilarious story that you won't find funny for at least 10 years.
Start with clean dry skin – Give yourself 20 minutes if you've just bathed to ensure that your skin is completely dry. If your skin isn't clean or if you have on lotion, you might get uneven patches that will be hard to correct. Also, with dry, unmoisturized skin, it will be easier for you to tell if you've missed a spot.
Work quickly – Whether it's spray, cream or gel, the key is to work quickly and evenly. Our users loved the self-tanners with a tint of color that let them see what they were doing. Cover a single area all at once. If you're doing a leg, don't do the lower leg, then the knee and then the thigh; do the entire leg at once. Use enough self-tanner so that you can get the whole leg at once, working quickly. (It's good to practice with lotion a few days before, just so that you're used to quick, all over coverage.) And work evenly. Our users found that downward, fanning strokes worked best for even coverage.
Go lightly on knees, ankles, elbows and chest
These are the areas that typically have dry skin patches, so just barely brush over them. You can always apply more if you want.
Wash hands often. If you're doing your whole body so that you won't have tan lines under your bikini, wash the palms of your hands at least once during the application. This stuff works fast. Your palms will have the most exposure, which is another reason to work quickly. And absolutely wash your hands when you're finished. You want color on the top of your hands, but you don't want your cuticles and palms to look like you've been playing in wood stain. Our users just rubbed their hands on the soap bar, rinsed both top and bottom of hands, and used a fingernail brush lightly on their cuticles.
Don't touch anything! The instructions on some of these products state that you can dress immediately or within 30 minutes of application, but most suggest waiting one to two hours. If you love your clothes, we suggest waiting the full two hours. Paint your nails, fix your hair, and let at least an hour go by before putting something on. And don't sit on any white sheets or furniture (just sit on a dark-colored towel).
Don't shower! Ever again. Just kidding. But wait at least three hours before swimming or showering.
Maintenance – Our users found that their tans lasted between three and five days before fading. You don't have to wait for your entire tan to be gone before reapplying. When you first begin to notice that your color is fading, go ahead and test again to see if it's safe to reapply yet. Reapplying will also give you a better idea of how dark you can go.
Courtesy of BeautyRiot.com