Beauty Tips for Fine Hair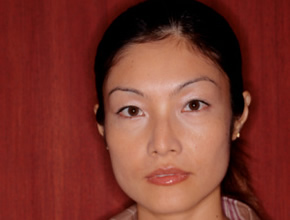 Fine, straight hair usually contains too much moisture. This is why the hair lays flat and limp. It is important to keep the hair clean and dry.    If your hair is fine and not chemically treated, get your stylist to recommend a good shampoo for fine hair and forgo the conditioner. Once a week protein treatments work wonders. Redken has two protein treatments, P.P.T. or CAT, that work great.
If your hair is fine and chemically treated, permed or coloured, use a shampoo for fine hair and a conditioner that will work on the inside of the hair. Use the conditioner more on the lengths of the hair and try to keep it away from the scalp. If the roots are free of conditioner, the hair will be fluffier.
To style fine hair, first blow-dry the hair trying to get more volume at the roots. Use a light styling lotion to create volume without weighing the hair down. For a fancier, fuller look, use Velcro rollers on pre-dried hair and a light hair spray and apply heat. Hot rollers are excellent also. Aerosol hair sprays work best on fine hair because they don't weigh the hair down.
A good haircut to remove split ends is highly recommended. Ask your stylist to recommend a haircut that will compliment your fine hair and suit your features.   Very long hair is usually not recommended for fine, thin hair. If you must wear it long, keep the ends blunt and use a protein treatment once a week. A colour or perm usually adds body to fine, limp hair
Recommended products for fine hair:

Shampoo:
Joico – Lavei
Focus 21 – Seaplasma Shampoo or Jojoba Shampoo
A-G – Shampoo #1
Paul Mitchell – Shampoo #1
Treatments:
Conditioners:
A-G – Stimulating Balm
Focus 21 – Hair Booster Plus

Are you struggling with feelings of sadness, loneliness or despair. Need someone to listen. Talk to us.