Control Your Frizzy Hair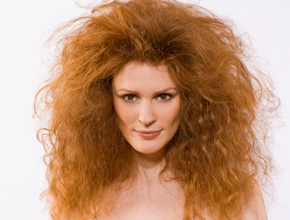 If you have naturally curly, frizzy hair, or coarse thick permed hair that is out of control, this is what our Beauty experts do to control it:
1. We take about a dime size portion of Paul Mitchell The Conditioner and 2-3 drops of Varnish by A-G. Mix them together on your palm and apply on damp, clean hair and work through evenly. Distribute from roots to ends. Let dry naturally.
2. If you want a little more control to style your usually frizzy hair, try adding as dime size portion of styling lotion to the above mixture. We like Moisture Mousse by Focus 21.
3. Hair that is naturally curly or frizzy usually lacks moisture that is why it is important to use a good moisturizing shampoo and conditioner. Get your stylist to recommend one suited for you.
Of course, your stylist can also recommend the proper haircut and style for your hair. We find that Velcro rollers work great at smoothing out frizzy hair. Use your Velcro rollers on dry hair and apply heat, with your blow dryer.