Celebrating the Holidays When a Spouse Is Deployed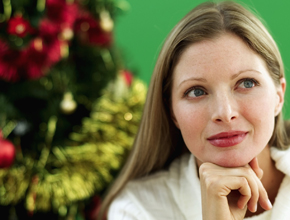 "It's my party and I can cry if I want to." This was my attitude when my husband, a Marine pilot, was deployed over the holidays. His four deployments have separated us over four Thanksgivings, four Christmases, and of course, four Valentine's Days. It was hard, especially the first few times. Then I discovered the secret of not only coping, but of celebrating with a light heart.
The first few holidays David was deployed, I went back to Canada where my parents live so I wouldn't have to be by myself. But that became costly and it was too much work dragging four kids on the airplane.
I remember the day I determined to finally spend Christmas at home without running away. I imagined waking up Christmas morning, with my four children tugging on my pajamas, excited to see what was under the tree. Then I felt anxious, knowing I would miss out on what I knew so many other couples were doing… drinking eggnog together, making pancakes, dancing to Christmas music.
And what about David? I knew he was having just as difficult a time. It was just different. What was he eating in Iraq during Thanksgiving? At least I was invited to a friend's house, no matter how awkward it felt sitting at a formal dining room table with her and her husband. David was probably eating hot dogs and chips, perhaps the candy I sent him. And then he would take a baby wipe and wash his hands afterwards, seeing as there was lack of sinks and water. Of course, he would be imagining what I was doing with our kids, wanting to be home to fry a turkey and make a bon-fire, and just hang out.
As Christmas approached, he was probably looking in his mailbox wondering when a gift would come for him. What about a card? Was anybody back home thinking about him?
A new celebration
After languishing through the holidays during David's first few deployments, it hit me: Why load the holidays with such expectations? Why not see every day as a holiday, a day of celebration?
I began to sit down with my children and make banners and gifts for their father on a daily basis. I would buy the kids gifts on non-calendar holiday days just to show them I celebrated them all the time. Sometimes, it was the simple things they longed to do… reading a book, or playing Frisbee, making crafts, even sitting down on the couch and watching a movie.
We found creative ways to celebrate, even without Daddy around. Every day became Christmas, in a way. Every day became a day of Thanks, and every day became a day of Love in our home. David would even find ways to celebrate with us by sending handmade cards to each of the kids on a regular basis. One year, I received around seven different Valentine cards in a week. I laughed. He knew.
"Choose life!"
In many ways…we can choose life…living to the fullest, seeing every day as a day of opportunity to celebrate. I have realized it is in all our perspective and how we choose to look at things. I choose life… every day! What about you?
Take the next step:
His deployment changed everything
Join the conversation right now