My husband says I'm too fat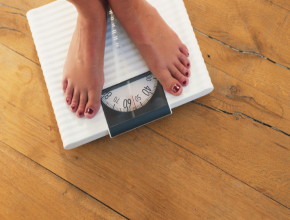 My husband has been bothering me for the past year about my weight. I have gained thirty pounds since I met him. I have asked him to stop bothering me about it but two days ago he told me that I was not sexually attractive to him because I was so fat. He said that because of my obesity he has not wanted to be with me. I still have a good shape and plenty of men like the way I look. I wear a size 14 for my height of 5'3. I am so angry at him that I have not spoken to him. I don't want to see, touch, hear, or be near him because of what he said. I am seriously thinking of getting out of this marriage because I have my whole life ahead of me. Maybe if he got counseling I would reconsider trying to work things out but right now I do not want to. We have had large arguments before, but he said that if I keep gaining weight he will leave me.
Advice: Does your weight interfere with your health? Do you have trouble doing the things that make life fun for you? Are you not able to function as well on the job or in your recreation? The longer it takes you to get that 30 pounds off, the more it will affect your gall bladder, knees, etc. Focus on your goals and let him see that you are enjoying life, even if he has a narrow focus. Pick up the book, Dance of Anger by Harriet Lerner. Write us back after you read the book and we will suggest how to get him into counseling and how to make communication the issue.
Food became Mary's comfort. She realized she was addicted to overeating.
Read Karen's Story: The Perfect Anorexic.