Wildflowers from Winter: My Story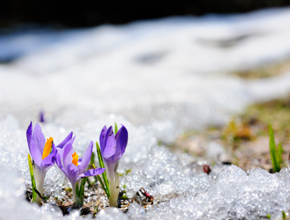 I love stories of hope and redemption, stories that grab you and don't let go until you see them to completion. I love it when a story speaks a truth so real that you can't get it out of your head. Recently, I read just such a story: Wildflowers From Winter by Katie Ganshert.
Wildflowers From Winter is a story about a woman returning to her hometown after tragedy strikes. One very vibrant theme that shines throughout the novel is the idea that grief is never wasted. At first, that idea can strike us as false. After all, who welcomes grief? But once grief has taken up residence in your heart, it's there, and all you can do sometimes is pray that something good comes from it.
At one point in the book the two main characters have a conversation about a very real phenomenon in nature: the harsher the winter, the more abundant the flowers in the spring. That conversation got me thinking about my own story and how that same theme has played out in my life.
My Mom got sick
I grew up in the church and accepted Christ when I was six. I was a good kid. I attended church three times a week, memorized a bazillion verses (thank you, AWANA!) and didn't commit any of the "big sins". Life was good. And then, when I was fifteen, my mom got sick.
We heard the dreaded word: cancer. I remember crying a lot. But I kept going to school, kept getting good grades, kept participating at church. I just knew my mom was going to get better because there was no way God would let her die. There was no way that could happen to me. To her. To us. We were good people and God loved us. He'd protect us, right?
Fast-forward a few years and after surgery and chemotherapy my mom was still sick. Her cancer was held at bay, but she couldn't work and she was getting thinner by the day. I went off to college. It was only a two-hour drive from Phoenix, but I left.
I don't know why I went away. Maybe I had to get away because I couldn't stand the sadness. Or maybe because I truly believed there was no way Mom would ever die. Like I said, I truly believed that God didn't let stuff like that happen to people like us.
I started to doubt
As my mom got sicker that year, I started to doubt. People told me how amazingly strong I was to face what I was facing, but I had doubts—and I felt like a big ol' hypocrite. I doubted a lot of things. Did God actually love me like He said He did? Did He really have the power to heal? Was I following the "right religion" and praying to the right God? Did God even exist?
I remember sitting on my dorm room bed, staring up at the ceiling, thinking, "What if God doesn't exist? He has to exist. I feel it. I know it. Right? But if He exists and doesn't love me—because how could He let this be happening if He loved me—how is that any better? And if He doesn't exist, then what's the point of life at all?" I fell into a depression of sorts. I no longer knew what to believe. Everything I'd ever believed in was shaken.
But then, God began to move.
My mom didn't get better. In fact, she got worse. That prompted me to transfer to a different university and live at home. Maybe that helped me to face everything. I don't know. But slowly, God began speaking to my heart. He spoke to my heart through the rest of my mom's life and when she died (I was nineteen) and through the funeral and the days that came after.
He planted a seed of truth there in the tender crevices of my hurting heart. Instead of asking "Why me?", I realized that I should be asking a different question: "Why not me?"
Why shouldn't I suffer in this life? Did I think I was better than those over who have lost their entire families to war, or those who have been raped and beaten? Was I more important than the people who had died in 9/11? Was I greater than martyrs who have died for their faith?
Jesus suffered. Did I think I was better than Him?
My whole life, I'd thought that if I did what was right and followed the "rules," I'd be protected from any adversity. But God promises that we all will face adversity. Yet, He also says, "Take heart. I have overcome the world."
In hindsight, I can see it, how God took that seed of truth He planted during the winter of my life—when harsh winds shook me and snow suppressed my joy—and He watered it. From it has grown a flower of faith and trust, one that I know would never have been so beautiful, so full, so bright, if I had never experienced the winter that came before it.
Take the next step:
Are you taking care of someone with cancer? You are not alone.
Dealing with grief
Do you feel as if your world has turned upside down? Our mentors are here for you.