God Removed My "Damaged Goods" Sticker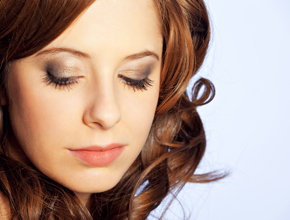 "Sometimes I feel like you're worthless!" said the voice on the phone.
"Well then," I replied.  "I suppose we shouldn't be together." I hung up.
After months of trying to end things, of breaking up with him repeatedly, I finally had the courage to let my boyfriend go once and for all. In the aftermath of that final phone call I had no tears left to cry. I simply closed my eyes and prayed for the strength not to run back to him, to let this be the end.
I lived the next few months and years of my life in a nightmarish haze. His words echoed in my mind. I thought about all the times he told me it was hard to fall in love with me because his ex-girlfriend was so much prettier than me. I remembered how he counted the pounds I lost and checked out other girls while on our dates. I was left drowning in disordered eating, looking to guys for my worth, and constantly feeling like a failure.
Worthless
Worthless. I felt like someone had put a price on me – a price far cheaper than what I used to believe I was worth.
Have you ever felt like the price tag someone gave you determined your worth? Have you felt like you never measured up, or weren't quite good enough? I've often felt that way. I felt like I wasn't pretty enough, thin enough, popular enough, smart enough, or worth dating enough…I guess, quite simply, I just wasn't enough.
When I read Matthew 27:9 today, it jumped out at me. "Then what was spoken by Jeremiah the prophet was fulfilled: "They took the thirty silver coins, the price set on him by the people of Israel." I've read it a hundred times, but suddenly thought, "Thirty silver coins for the King of the universe? For the Son of God?"
All those times when I felt like I had a "Discount: damaged" clearance tag on me, I had not realized that my Savior was given the same tag. But the price tag didn't stay on Him. He didn't wear it for years like I did. He knew who He was.
One day as I was moping around my parents' house, a few months after breaking up with that boyfriend, my dad came over, took me in his arms, and said, "Tiffany, I don't love you because you're good enough; I love you because you're my daughter."
Priceless
My haze dispersed as I realized God was saying the same thing to me: "Tiffany, I don't love you because you're good enough. All your best deeds are like filthy rags to Me. You can't ever earn My love, but I still love you right now, right where you are. You are priceless to Me. I gave everything – the life of my Son – to draw you near to Me. You have worth because I give you worth. If you'll let Me, I'll replace your clearance price tag with a 'bought' tag."
God took me on a journey. Slowly He scraped all the remnants of that clearance sticker right off of me.  I discovered that I couldn't know who I was until I knew Whose I was. He bought me with a high price. I was His. Being His daughter gave me a new identity.
I don't feel worthless anymore. I don't feel like I'm not enough. In fact, instead of focusing on me, I focus on the One who bought me with His life. The less I focus on me and the more I look to Him, the more my insecurities disappear.
Realizing that I am bought with a price taught me that I am no longer my own. I am His. When I live to please and glorify Him, instead of living to prove myself to others, all my insecurities fade into the background and true confidence erupts.
I am so thankful for a High Priest (Jesus) who can understand our struggles, because He experienced them when He came to earth to pay the ultimate price for our ransom. (Hebrews 4:15) He understands what I experienced, because He had a price tag put on Him too.  But He didn't wear it. He knew who He was. So do I, because I know Whose I am. My Savior bought me with His life.
How do you see yourself?
See yourself the way God sees you
Restore your sense of self
Take a lesson: How do you define yourself?