Single Mom Survival Kit 7: Life As It Is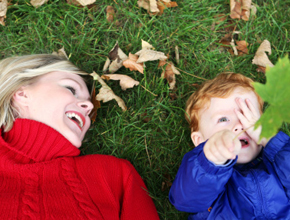 They say that "Life is always greener on the other side of the fence" and sometimes that seems to be true.  In the midst of divorce it's easy to think that everyone else's life is going better than our own.  But that can be dangerous thinking.
Contentment is something that comes from within. We can't order it from Sears, take a pill for it, or get a friend to email it to us.  Contentment is a process where we take a look at our life as it is, despite topsy-turvy conditions, and live with contentment. Contentment is a choice. No, really!
Conflicting definitions of happiness

Our society says if we have possessions, status, and lots of friends then we will surely be happy.  I know people with few possessions and status who live with contentment. There is a belief system that says "if I get this" then I will be happy.  Then they get it and say again "if I just get this"…  What an exhausting life.
What is contentment? Merriam Webster's dictionary says it is a "feeling or showing satisfaction with one's possessions, status, or situation". God's Scriptures says, "But godliness with contentment is great gain." (1 Timothy 6:6) When we commit to asking God to help us each step of the way we can learn and grow with Him.  Contentment will come.
As single moms we can get exhausted trying hard to get things.  You can have contentment as a single mom.  This is life as it is.  I fear many run to new relationships quickly without healing and the kids adjusting because we want the safety that comes with being in a relationship.  We want that status that the world tells us will make us happy.
I speak from experience.  I was lonely, I wanted to feel loved, and in many ways wanted to prove that I wasn't a failure.  So when a relationship came along I took it.  My kids struggled with it and I was focused on the relationship without total healing.  It did end and for that I am thankful.  I needed to be content to be on my own, heal my heart and realize I could enjoy life alone.  The kids began to blossom again and we worked on our issues as a team.  I was on my own for 12 years. Did I like it sometimes, NO! But was it right, YES.
Working on contentment

God and I had quite a few discussions over the years. I was tired, I struggled financially, and I was lonely. Do you ever feel that way? However, in my spirit I began to work on being content with this life as it is.   I had to keep giving myself refresher courses on Contentment 101.  It wasn't that God was punishing me, or keeping good things from me. He told me to hold on.  In the mean time, I had to live with a contented spirit.  So I began to work on it.
I like the phrase  "ONE is a whole number".  We are a complete person of worth in God's eyes. I went to movies, I took night school courses, aqua fitness classes, walked the beach, and rode my bike …all alone. I had lots of time to be with friends, but in those alone times, I began to see how this 'Linda' ticked with new goals and dreams. I had strength to help my kids because there was contentment and I wasn't trying to juggle a relationship as well.  Some decide not to make this decision. For me, I knew it was right. I also knew that if God wanted me to have a good relationship and a new husband, I would allow Him to do the picking and all the orchestrating.
The fact is that it made me stronger. When God sent me my sweet husband I was ready. I caution you to be careful not to take the first man that comes along.  Find out who you are first.  Heal your hurts, help your kids get on solid ground, and be content. Relationships aren't a race.  They need a good foundation.  You may have lots in common, but that doesn't mean you are right for each other. Take your time.
Waiting is hard, but it's worth it
There were times when I sat on the side of the highway with my kids waiting for a tow truck and I would say to God, "See I need a man!"  When I needed wisdom to parent I would tell God again, 'See I need a man'.  When the yard work was so overwhelming and my shoulders ached I again said the same phrase, 'See, I need a man.'  God just kept saying, "You Can do This…just you wait!"  If God had told me at the beginning of my journey that I had to do all this on my own for 12 years I think I would have sat down like Job and put dirt on my head.  He knew what was best for me.  Are you willing to be content in your life alone?
God helped me be content despite the hard road.   Proverbs 15:15 says, "The poor have a hard life, but being content is as good as an endless feast."

Yes, life was hard, but being content brought amazing peace and strength to not only myself but to my girls as well.  They learned the value of a dollar, the joy of making new memories, the strength of a woman, and that when life is tough we need to ask God for help.
Proverbs 14:30 syas, "It's healthy to be content, but envy can eat you up". I encourage you not to compare yourself with others.  When others move ahead in their journey, be happy for them.  Envy can eat you up.  It can wear you down with a 'poor me' attitude.  When my single mom friend got remarried, I was in her wedding party.  I could have had a pity party and wondered why God wasn't allowing me the same.  He knows what He is doing.  He knows what is ahead.  He just asks us to be faithful with life as it is.
Choose contentment

This article is something I am very passionate about. Please don't run ahead of God.  He is tuning up the orchestra of life for you.  Your part will come.  Today, choose to begin a journey of contentment in your life as it is.  This is a journey that can be so fulfilling between you and God.  He's got your back, you just have to trust Him and be content.  I know this because He proved it to me.
Be at peace with yourself and embrace contentment. You may never re-marry. You may choose to live a single life. You may get married again. Maybe you struggle with contentment in status or possessions.  Whatever life is handing you these days, ask God for the contentment only He gives.  Then you can get up each morning with a sense of purpose.
Father God, please help all of us to be content in our current state.  May we rejoice that as we trust You and desire to be obedient to You, we will know Your true contentment.  Thank you. In Jesus' name, Amen.
There is HELP, there is HOPE, there is HEALING!
If you are new to single parenting and have questions or just need someone to talk to, our mentors are available anytime.  You can use this form to request a mentor.
Don't miss the rest of the Single Mom Survival Kit:
Part 1: A box of resources
Part 2: How to set boundaries
Part 3: The monster called FEAR
Part 4: Testing, testing, 1, 2, 3
Part 5: Making memories
Part 6: Good grief
Part 7: Life as it is
Part 8: The blame game
Part 9: Bucket full of dreams
Part 10: Looking back on it now
Take the next step: