Knowing God Personally: Our Sin Separates Us from God

Principle Two: All of us are sinful and separated from God. Therefore we cannot know and experience God's love and plan for our life without God's help.
The fact is, we need Jesus. The Bible says, "…all fall short of God's glorious standard" (Romans 3:23b). Though God intended for us to have a relationship with Him, we naturally want to do things our own way. We're stubborn, selfish, and frequently unable to follow through on our promises. Try as we might, we just keep stumbling.
Deep down, our attitude may be one of active rebellion or passive indifference, but it's all evidence of what the Bible calls sin — an old archery term which literally means "missing the mark."
The Bible says the result of sin in our lives is death — spiritual separation from God (Romans 6:23).
Although we may try to reach God through our own effort, we inevitably fail. We just can't ever be good enough.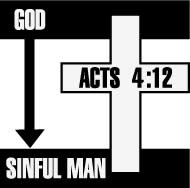 There is a great gap between us and God. We may try to reach God and find a meaningful life through our own efforts. We may try to do good things, adopt a new guiding philosophy, live a moral life or practice religion — but we inevitably fail. We need God's intervention and help.
The Bible tells us that "Salvation is found in no one else, for there is no other name under heaven given to mankind by which we must be saved" (Acts 4:12). This source of salvation this verse speaks about is Jesus.
Learn how Jesus bridges the gap >>

If you have any questions or would like to be prayed for, we would love to listen and help.
Connect with one of our free and confidential mentors.