Yes, I admit it. I'm afraid of commitment.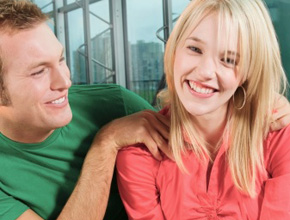 Is Fear of Failure Holding You Back?
Truth hurts. When hanging out with one of my buddies a while ago, he tells me that he thinks I'm scared of commitment.  My first reaction was to defend myself against this allegation, I'm not scared of commitment, I'm just independent! But then I really got to thinking about his comment.
Here I am… I'm a single woman in my early twenties.  I've completed my college education which I paid for entirely myself. I work at a professional job in my field of study. I rent a townhouse with some roommates. Yes, society may classify me as successful, independent woman; but what is it that lies below that facade of independence?
And the more I think of it, the more I agree with my buddy, I have an intense fear of commitment! So, what is it that terrifies me about being committed to something or someone?
Related: Find the Acceptance that Matters Most.
Commitment puts my freedom in jeopardy. Last summer, I considered giving up my professional, secure job to spend my summer surfing on Oregon's coast. Regardless of the money or benefits offered at my job at the time, I felt that I might be missing out on the adventure of a lifetime by being tied down to a full-time job. Unlike the generation before me, the idea of working at the same job for the next 30 years does not appeal to me at all.
My living arrangement choice is to rent a townhouse with some roommates. As much as I see the logic in paying into a mortgage sooner rather than later, I couldn't imagine being tied down to the same place for the next 25 – 30 years. I'm unsure what my life holds for me and I want to be ready to move if the opportunity presents itself.
Commitment means I have to make a choice. Though I'm in my early twenties, I still haven't had a serious boyfriend.  One of my friends is getting married in couple months.  Though I'm ecstatic over her happiness, part of me questions if she can truly know that she's making the best choice. In contrast to my friend, I am all for casual dating. When asked to commit my time and attention to one man in particular, I start to panic. What scares me the most is that I might make the wrong choice and get hurt in the process! I've watched many of my friends commit themselves to a relationship only to struggle through betrayal and rejection later. In the future, I would love to be in a committed dating relationship, but until I met a man that I'm willing to risk my heart for, I will remain single.
Commitment means I can't just think of myself. I used to volunteer with a kids club on Friday nights. There was no doubt that my leadership was positively influencing the lives of the kids, but after a couple months, I quit.  I quit because I wasn't willing to sacrifice my Friday nights to spend time with the kids.  Instead, I chose to spend my Friday nights partying with my friends, which just seemed much more fun than playing Dodgeball with some Grade 7 kids.
Like millions of others in the world, I admire the devotion of Mother Teresa who sacrificed her life in the service of others. I always say that I want to do the same, but in reality, it's tough to make the decision to give up some of the things or activities that are enjoyable to me.
Unveiling my secret desire for commitment. Despite my efforts to remain unattached and uncommitted to anything or anyone, I have to admit that deep in my soul, I have an intense longing for security and belonging – both of which cannot happen without commitment.
Though I don't want to be tied down to a job or a house, I still want the security of knowing where my next pay cheque will come from or where I'll live next month. And as much as I'm scared of committing myself to a dating relationship, I truly desire to be with someone who is 100% committed to our relationship. I think we're all built with a desire for security.
So what's the issue? When I think about my commitment fears, it boils down to one issue: truly loving and being loved by others because that means that I'm opening myself up to the possibly of being hurt.
I know that I can't truly love someone else unless I am vulnerable – whether it's loving a man or my friends, family or the kids I volunteered with.
When I love someone, I can no longer just think about myself. I need to be willing to put time and energy into our relationship and always live with the possibly that the person I love could destroy my trust.
Being committed demands remaining faithful to someone or something even when times get rough. Whether the person I love treats me poorly or I don't see the results of my project. Commitment means I need to stick to it because I love and believe in it.
Looking for examples of commitment. I can't honestly find many good example of commitment in our culture. Yes, I can think of a dozen names of famous people committed to the success of their career or personal dream. But often these ambitions are mixed with impure motives of greed, pride and envy. Do we really have examples of true selfless, altruistic people who lived a committed life?
The only person I can think of is Jesus Christ. Although he lived 2000 years ago, this man who only lived 30 years made a tremendous impact on the world even until now. Some say it's not possible to live like Jesus Christ or follow his example. They're right. It's impossible to live and love like Jesus Christ. It's impossible to copy what he did. But I do know it's possible to have Jesus Christ as part of your life because I experience a personal relationship with him everyday.
Why have Jesus as part of my life? Jesus is slowly changing me and teaching me a better way to live, act, think, behave, feel and react. If I want to know how to love others, I look to Jesus – he knew how to love another person.  Jesus didn't go into relationships thinking, "Oh, I better be careful, this person might hurt me." Instead he chose to love all of humanity with a deep, passionate love that eventually lead to his death.
He is the ultimate example of commitment – he was committed to selflessly loving others including you and me. Jesus gave up his freedom and in a selfless act, came to earth to die for the wrong things and I have done. To me, that's unbelievable that someone would be 100% committed to me even before I knew who He was. Despite my commitment phobia, I can rest assured that I am wholly and completely loved by God. And can than strive to follow his example of loving other people.
Kristin is graduate of British Columbia Institute of Technology, currently works in Human Resources and recently travelled to Ireland. Copyright 2005 iamnext.com. May not be used without permission.
---
Related Reading:
Picture Perfect: Finding Acceptance that Lasts
Copyright iamnext.com 2005. May not be reprinted without permission.