Conversations Among Friends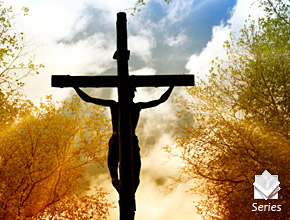 The "end" was in sight
– it was clear that authorities had reached a decision. They felt Jesus needed to be eliminated, and one of his own friends had agreed to hand him over. Jesus knew what his closest followers still could not yet accept – death was near, and this death would impact individuals and nations. The results would last for eternity. Consider the final hours he shared with his closest friends.
The setting was simple. Jesus came with his closest followers to a room where they could commemorate the Passover together. This meal was a reminder of the time centuries earlier when the children of Israel had been set free from slavery in Egypt. It was a solemn time, yet one of rejoicing in God's deliverance of His people.
Our text is John 13 and following. As they sat at supper, Jesus rose, took upon himself the role of a servant, set aside his outer garments and tied a towel around his waist. He took up a basin of water and proceeded to wash the feet of each of his followers.