Shoot For the Moon: Harnessing a Child's Enthusiasm to Achieve Your Goals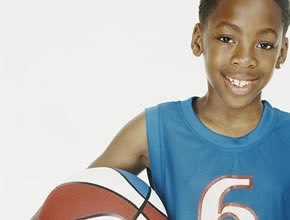 Whoooosh!  As I relaxed in a lawn chair, my six-year-old sank yet another basket. Watching his skill develop, I couldn't help but dream about him becoming an NBA star some day.  I could just picture it…I, his proud mama in the stands adorned in the appropriate team sweatshirt.  After the game – a big hug and kiss for his mom while fans surround him and scream "We're Number One!"  And (of course), I could clearly see the big house he'd buy me to live out my old age (come on, if a girl's gonna dream she may as well dream!)
When my husband and I first recognized my son's passion for basketball, we did everything we could to help nurture his interest into the talent he so desperately wanted.  I found a basketball camp in the area that would teach him the proper way to shoot and handle the basketball.  My husband spent night after night watching basketball games with him (what a sacrifice…), explaining the rules and pointing out the techniques of the game.
It's easy to recognize our children's gifts and get excited and involved in developing them. Since it is so much fun to see the progress our kids can make, isn't it strange that the same optimism about developing a new skill or finding a gift doesn't always spill over to us?
What happens to our dreams?

Maybe one reason is that when we look at a child, we see nothing but a blank slate, ready to be filled with whatever outrageous and exaggerated dreams they can think up.  Anything is possible!  As we get older, though, our slate is no longer clean – we have "responsibilities" and "obligations" that leave no room for larger-than-life dreams.  We foster the belief that if we can't have it all, it's not worth trying.
There is still time left to dream
What a shame and a waste!  If we were limited to the gifts and talents we develop as a child, many of us would never discover the wonderful things in store for us.  Anna Mary Robertson (also known as Grandma Moses) never even picked up a paintbrush until she was in her mid seventies.  The year before she died, at 101 years old, she painted 25 pictures.  What a loss it would have been if she had decided she had too many things preventing her from fulfilling her dream! Sadly, that's what many people much younger than Grandma Moses believe… when in reality, the possibilities for them are limited only by their own self-made barriers.
During the next few weeks I challenge you break that pattern of self-destruction. You have built-in role models in your kids to observe and emulate – really watch how their excitement and zest for life and their built in desire to excel propels them to unlimited possibilities.   Then, try to harness even a little of that enthusiasm into your own quest to achieve your goals and dreams. True, with your busy life you may not attain everything you desire immediately.  But the results are bound to be better than the status quo!  After all, as Les Brown reminds us, it's always better to "Shoot for the moon.  Even if you miss, you'll land among the stars!"