Earthquake devastates Haiti – Search for survivors continues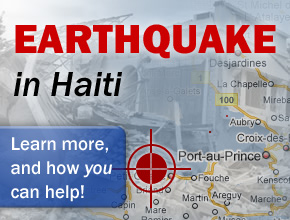 Global Aid Network (GAiN), humanitarian division of Power to Change, on the ground in Haiti
Langley, B.C. – (January 14, 2010) – After Haiti was rocked by a 7.0 quake on Tuesday, Power to Change is responding to the devastation with immediate financial aid and emergency response supplies.
Through the humanitarian division, Global Aid Network, Canada (GAiN), relief efforts are beginning. The national director in Haiti, Esperandieu Pierre, is operational on the ground and deeply connected to a distribution network of churches and volunteers in the country.
In a phone interview with staff in Langley, BC on Wednesday Pierre spoke of not knowing where his family was. "I am not alone in this situation," he said. "I choose to believe God that my wife and children are fine and that I will be able to hug them when I get home." He also expressed his thanks for those in Canada who are supporting his country at this time. "You let me know that we are not alone in this situation. It is a big spiritual boost and encouragement. Thank you very much." On Thursday we received word that Pierre's family had been found and were safe.
Esperandieu's team and network of churches and volunteers are there on the ground helping now. GAiN is ready to deploy and distribute eight containers, each totaling $100,000 (CAN) worth of emergency relief supplies to Haiti. These containers are packed with food, medical supplies, water purifying tablets and other emergency response provisions. Six additional containers will be packed and shipped as soon as possible.
The Red Cross estimates 3,000,000 people are displaced and up to 50,000 people may have died with thousands more still trapped under rubble. GAiN is coordinating efforts to help immediately and long-term in Haiti. GAiN's disaster response specialist, and Canadian GAiN representatives will arrive in the country as early as Friday.  A trauma counselor will follow to help with ongoing relief efforts as the needs escalate.
As the team in Haiti begins to mobilize, Power to Change is in need of urgent financial contributions in order to respond to the needs of the Haitians. Without immediate food, water and medical supplies to treat the injured, many more will die.
Donations can be made online at powertochange.org or by phone at 1.800.563.1106.
The latest on our relief efforts will be updated on our website at www.powertochange.org
#
Headquartered in Langley, BC, Power to Change is an evangelical Christian missions organization, consisting of 15 ministries working in Canada and around the world. GAiN Canada, our humanitarian division works to demonstrate the love of God to hurting and needy people around the world through relief and development projects.
For more information & media inquiries
Shanna Keen
Marketing & Corporate Communications Manager
Power To Change
Direct: (604) 514-2004
Mobile: (604) 505-6734
www.powertochange.org
*Photo courtesy of Thony Belizaire for Getty Images
---
STAY CONNECTED
Power to Change Newsletter