New Real Life Kits For 2010: Connecting Students' Cravings to Jesus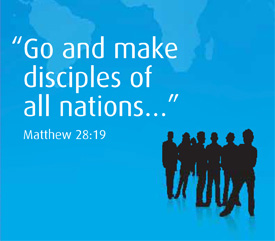 Four years may seem like a short amount of time, but it's also long enough to change the direction of someone's life forever. An estimated one million students attend universities across Canada, and every day they make decisions that will impact the rest of their lives. University students are looking for a place to belong, to meet new people, and are curious and responsive to new ideas. Many of them are experiencing independence for the first time, building life-long relationships and making critical decisions about their future careers.
In just a few weeks, thousands of young people will be stepping onto university campus' for the first time. Over the course of 4 years, they will be faced with many new worldviews, and their beliefs will be challenged. The vast majority of students who arrive on campus have never been introduced to Jesus.
During the first week of September, Campus for Christ will be distributing thousands of Real Life Kits across Canada. Each kit includes Soul Cravings Prequel by Erwin McManus, a special edition of the New Testament, and a Knowing God Personally booklet that presents the Gospel in a succinct way.
This year we are more excited than ever for our Real Life Kits. We have created exciting new resources to further engage university students. When accepting a Real Life Kit, students are asked to fill out a contact form so one of our campus staff members can meet up with them. Student leaders share a new magazine created by Campus for Christ, which includes captivating stories and the message of Jesus. When one student shares the gospel with another, a chain reaction occurs resulting with hundreds being exposed to the Gospel! That is the math of evangelism at work!
Please partner with us today to make a great impact on young adults all across Canada. You can help change the world by partnering with Campus for Christ and equipping students to distribute Real Life Kits and have life-altering conversations with their peers.

Please send your gifts as soon as possible. We want to make sure that each university receives their kits in a timely manner.

---
STAY CONNECTED
Power to Change Newsletter