@powertochange:
Whether it is growing in your relationship with God personally or with a group, or giving a booklet to someone who… https://t.co/oq1okOXh5r
- Tuesday Feb 5 - 10:07am
The Walls In London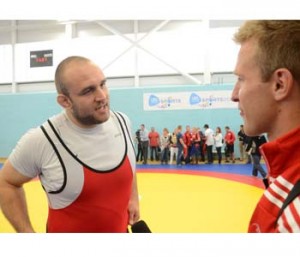 Jarret and Jessie Wall, on staff with Athletes in Action, recently returned from what they have called a "monumental" trip to the 2012 Olympics in London, England.
Jarret's history with freestyle wrestling led him to this trip where he and his wife were essentially junior chaplains. "We supported various Canadian and American wrestlers and staff, as well as attended an AIA leadership training conference and the first More Than Gold Legacy Breakfast."
Jarret and Jessie were CIS athletes at the University of Alberta; she played rugby and he wrestled. Since then, the Walls have spent a year and a half in New Zealand on STINT with Athletes in Action. Currently, Jarret serves at SFU as chaplain for the men's basketball and football teams.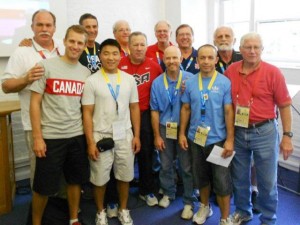 This most recent trip to London serves as a springboard for a new wrestling ministry in Canada. Jarret joins a rich history of AIA wrestling, which has included world champions and Olympic gold medalists. Thus, by working at SFU – the top wrestling club in Canada ­– Jarret's ministry to amateur wrestlers is ideally situated.
"I wanted to go back into wrestling to reach out to wrestlers," says Jarret. He took initiative to make this vision a reality in March of 2011 where he attended the National Wrestling Championships in Edmonton. With the help of other AIA staff he was able to connect and network with enough wrestlers to begin AIA Wrestling in Canada.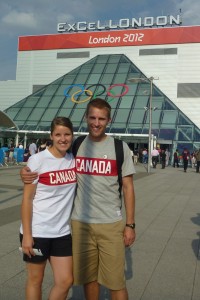 The London Olympics were like a shot of nitrous to AIA Canada's wrestling ministry. Jarret was able to make a variety of connections with high-profile athletes and staff, attend conferences and training events with hundreds of Christian and non-Christian Olympians, and raise awareness for AIA and the credibility of the organization. "Our hope is to foster and grow those relationships in the days, months, and years following the Olympics."
Jarret recalls one such relationship: "I participated in a wrestling press conference with some Christian athletes on behalf of AIA, asking them how they prepared spiritually and how faith and sport intertwined. I stayed for their practice afterwards and that's where I ran into one of my best friends in wrestling and his girlfriend on Team USA. My presence at the Olympics immediately gave AIA credibility in their eyes. It was no longer simply a 'weird' thing I do on campus but rather a legitimate organization endorsed by top Olympic athletes. Even that small touchpoint was enough to extend an invitation to the More Than Gold Breakfast.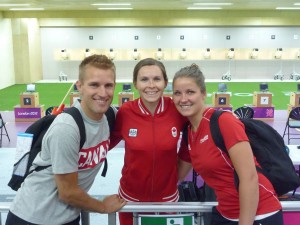 The Walls also connected with the Ludwig family during their stay in London. Dorothy Ludwig is a Canadian Olympian who works in the Finance Department at Power to Change headquarters. She competed in the London Olympics in the 10m Air Pistol. "It was a huge blessing to get to know her and to go with her to venues like the Canada Olympic House. She is a solid Christian who wants to use her faith for God, and she understands what that means. Because of her we had incomparably better ministry opportunities."
The Walls were able to minister at a variety of venues, engaging in discussion and providing introductory faith material such as Soul Cravings books as well as the multilingual DVD Struggle and Triumph. "We met a few Christian Canadian athletes currently living in BC who feel totally isolated. Ideally, that will no longer be the case."
The Walls were able to attend AIA's leadership and training conference, which hosted 160 staff members from 40 countries. They were also able to participate in the Legacy Breakfast that was held in honour of Eric Liddell in partnership with More Than Gold. 400 people attended the breakfast including many Olympians. Among them was Canadian Olympian Ohenewa Akuffo who competed in the 2008 Beijing Olympics in Women's Wrestling. "She's a wrestler with a heart for God  and she uses her platform to speak into the lives of people in her community."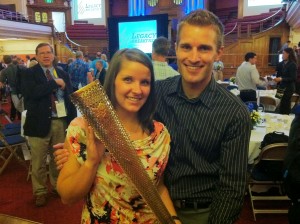 Jarret recalls, "All of my dreams have been fulfilled in some backwards form or another since surrendering my life to God during university. The last one I can remember was wanting to go to the Olympics for wrestling. I gave up that dream five years ago when I retired, but many athletes on the Canadian team are my peers so it's quite good to use my platform and connections with those people. God brought us to the Olympics for wrestling!"

Jarret Wall will continue to develop AIA Wrestling in Canada this year while working full-time on the SFU campus as chaplain. Jessie Wall is acquiring her Masters in Counseling Psychology specializing in Sports Psychology and has a heart to equip laypeople and chaplains to meet the basic emotional needs of athletes. Three new staff members will join Jarret and Angela Trauter at SFU this year. They would appreciate your prayers, encouragement, and financial support.
---
STAY CONNECTED
Power to Change Newsletter