@powertochange:
The little booklet, "Have You Heard of the Four Spiritual Laws?" by Bright is shared with people throughout the com… https://t.co/K6PJeIzw0q
- Wednesday Jan 17 - 7:45am
On Rugby and Trusting God
If you visit the University of Toronto, you might mistake the young Kiwi hanging out with the rugby team as a player. But as of this year, Jonathan "Jono" Donald is an assistant coach.
Jono came to Christ in university and got involved with Student Life, the New Zealand chapter of CRU. In his third year, he did an exchange to Western University in Ontario where he discovered Athletes in Action.
At AIA's Training Camp, Jono says he was challenged: "They asked me questions like, 'What would a year on staff look like?' and 'If money wasn't an issue and you could not fail, what would you do?'" The thought of doing full-time sports ministry captivated Jono.
With one semester left of his schooling, he was at a crossroad in his life. Offered a comfortable and prestigious job in New Zealand, he instead decided come on staff with Athletes in Action and step into the unknown. "A lot of my story is trusting God and following him where things are unknown; I decided to go down that path."
Jono became aware of the great need for sports ministry in his home country, which caused him to commit to a one-year educational Stint in Toronto.
Since Jono arrived in the Great White North, the ministry situation has changed significantly at U of T. A new athletic director has significantly limited the direct access of AIA staff with the university's sports teams in an attempt to make sport a religion-free zone. "I stepped off the boat into this situation, and our team is still trying to figure out how we do ministry now."
But for God, all things are possible.
"I saw some guys throwing a rugby ball around," says Jono regarding a regular day on campus. "I introduced myself and they quickly wanted me to come play on their team. Since I'm not a student, it led to me having an assistant coach role. I thought it would be a cool way to meet a bunch of athletes."

Instantly, Jono was on the bus to Niagara Falls as a coach, and doors were opened once again. He began to identify the Christians on the team and meet with them one on one to build relationships. "It was really cool to come to a new city, trying to start ministry, and meet thirty guys right off the bat."
In the back of his mind, Jono know that fellow Kiwi and professional rugby player Timo was coming to visit Canada. Timo's twenty years on staff with AIA and professional rugby platform make him a dynamic individual and someone Jono was excited about introducing to his players. "I put a lot of prayer into how Timo could share without overstepping boundaries and being mindful of the athletic department."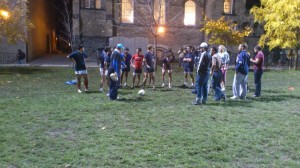 After talking with the other coaches, Timo was welcomed as a guest coach and – after watching a game to learn how the team could improve – ran a training session. Afterwards, Gatorades were passed out and the players gathered to hear Timo's story, how rugby's been a big part of his life, but how his relationship with Christ is more important. The players were then invited to the weekly Wednesday meeting that Jono typically hosts where Timo would share more of his story.
"We knew that players wanted to talk to him, be we weren't sure what would happen. Wednesday came around and three quarters of team showed up, as well as most of the captains. It was really cool." After some fun and games, which included a demonstration of the New Zealand All Blacks' "Haka" anthem and highlights from Timo's career, he shared his story in greater detail. Timo discussed how he suffered from depression and began to understand the fickleness of sports with its highs and its lows. As he came to know Christ, he experienced freedom.
What was truly amazing was the response. Timo handed out comment cards afterwards and many expressed interest in knowing more about God. Beyond that, five individuals indicated an actual decision to follow Christ. "It's been really exciting to catch up with six or seven of them," says Jono. "Some have religious backgrounds, but there's a lot of interest and the Christian guys on the team are really excited." Jono desires to start a rugby bible study with the new group of believers.
This is just one instance of what's happening in many cities. Timo and other AIA staff recently travelled to Ohio and saw dozens come to Christ in Cincinatti, Cedarville, and Columbus. "We were able to boost the ministry that was going on there already," says Jono.
One of Jono's teammates has started attending church.
A handful meet weekly to study the bible and pray.
"We're seeing a lot going forward from here."
Jono.donald@athletesinaction.org.nz
---
STAY CONNECTED
Power to Change Newsletter