Syrian Refugee Crisis in Jordan Escalates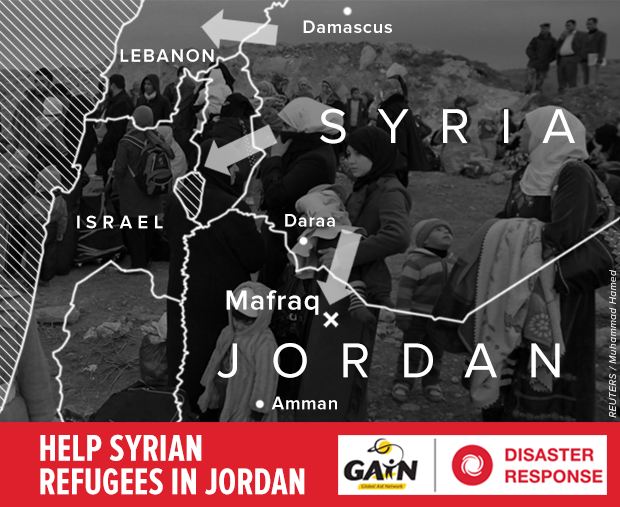 He was only 11 years old.
Seized by Syrian soldiers for walking amongst protestors, he was beaten. Tortured. And when he died, the soldiers didn't relent. They broke his neck.
The rest of his family escaped, fleeing to the neighbouring country of Jordan.
For Syrians, it has been two years of violence, strife, and fear. Over one million have fled the war-ravaged country, and hundreds of thousands more are internally displaced. Jordan is now host to 450,000 Syrian refugees, according to government estimates – the majority of them living in urban centres. The United Nations Refugee Agency is reporting that 1,500 more stream across the border daily.
Global Aid Network's (GAiN) on-the-ground partner in Jordan is meeting with refugees every day in the city of Mafraq. These families are often living together in makeshift shelters. They have no money for rent, heat, food, or medical care.
By working through the local church, we are able to demonstrate God's love, as well as provide much-needed food, water, and medical supplies. The Emergency Survival Kits we are distributing contain food and water for a family of five for 10 days, two blankets, and medical supplies. Each kit costs $150.
"I am thankful we have people who are willing to go to the field and help," our partner says. "Now, [with these supplies], we can go and help the Syrians."
The Jordan government is calling for significantly more humanitarian support. We must move quickly to respond. Together, we can tangibly show the love of Christ and help others when they need it most.
Will you partner with us today to bring hope to Syrian refugees?
Yes! I want to help!
GAiN is the Humanitarian Division of Power to Change
---
STAY CONNECTED
Power to Change Newsletter