@powertochange:
Whether it is growing in your relationship with God personally or with a group, or giving a booklet to someone who… https://t.co/oq1okOXh5r
- Tuesday Feb 5 - 10:07am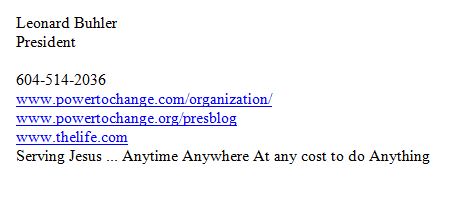 Your Signature Matters
"Serving Jesus … anytime, anywhere, at any cost, to do anything."
Just about every email I send out has that phrase at the very bottom.  I chose it because it reflects who I am, and how I see my role as president of Power to Change.
It's a pretty bold statement – I'm aware of that.  So every now and then I remove it.  If I'm sending a message not related to work – maybe emailing an electrician about quotes for wiring my house – I delete that part of my email signature before sending.  If the person's not a Christian, I don't want to offend them unnecessarily.  If the person is a Christian, I don't want them thinking I'm looking for special treatment because I'm a fellow believer or someone in full-time ministry.
One day, I forgot.  I was emailing a company for something house-related, and I forgot to delete my very bold Christian email signature.  When I called the man later to follow up, I was shocked.
"You're the guy with the Jesus signature.  I know all about you!  I read your blogs.  I went to thelife.com and watched your movie!"  I waited for him to say something negative.  I had been worried about coming across as pushy.  But what this man saw was someone who really loved Jesus, and he was incredibly intrigued.  He asked me question after question about my faith.  He shared with me how a friend of his was a believer, and he had enormous respect for him.  Next thing you know, I'm putting an appointment with this man and his Christian friend in my calendar so we could talk more about following Jesus.
It made me remember:  God can use anything to draw people to Jesus – even my email signature.  Am I more worried about not offending people, or about obeying Him?
The small things – things like email signatures – matter.  God can use them.  Am I willing?  Are you?
---
STAY CONNECTED
Power to Change Newsletter