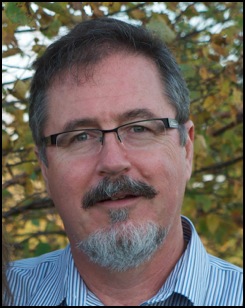 Kirk Durston
Kirk Durston's work involves a significant amount of time thinking, writing and speaking about the interaction of science, theology and philosophy within the context of authentic Christianity. He has been married for 32 years to Patti and they have six children and two grandchildren. He enjoys landscape photography, antiques of various types, wilderness canoeing and camping, fly fishing, amateur astronomy, reading, music, playing the saxophone (alto), and enjoying family and friends.
Kirk grew up on a cattle and grain farm in central Manitoba, Canada, where he spent countless hours wandering around on his own in the forest as a young boy, fascinated with the plants and animals that are native to that region of the province. Throughout his teen years he spent six days a week working as a farm hand with cattle and grain. He left his father's farm at the age of 19 to go to university.
 Education
Ph.D. Biophysics, 2010, University of Guelph
M.A. Philosophy, 1997, University of Manitoba
B.Sc. Mechanical Engineering, 1979, University of Manitoba
B.Sc. Physics, 1976, University of Manitoba
Has also completed eleven graduate-level courses toward a Masters degree in Theology.
Academic Publications
Science
Durston, K.K., Chiu, D.K.Y., Wong, A.K.C., Li, G.C.L. (2012), 'Statistical discovery of site inter-dependencies in sub-molecular hierarchical protein structuring', EURASIP Journal on Bioinformatics and Systems Biology 2012, 2012:8
Durston, K.K.; Chiu, D.K.Y. (2011), Chapter 5. Functional Sequence Complexity in Biopolymers. In The First Gene: The Birth of Programming, Messaging and Formal Control, Abel, D. L., Ed. LongView Press–Academic, Biol. Res. Div.: New York, N.Y., pp 117-133.
Durston, K.K., Chiu, D.K.Y., Abel, D.L., Trevors, J.T. (2007), 'Measuring the functional sequence complexity of proteins', Theoretical Biology and Medical Modelling, 4:47, 1-14.
Durston, K.K., Chiu, D.K.Y. (2005), 'A functional entropy model for biological sequences', Dynamics of Continuous, Discrete and Impulsive Systems: Series B Supplement.
Philosophy
Durston, Kirk (2006), 'The complexity of history and evil: a reply to Trakakis', Religious Studies, 42, 87-99.
Durston, Kirk (2005), 'The failure of Type-4 arguments from evil, in the face of the consequential complexity of history', Philo, 8, No. 2, Fall-Winter 2005.
Durston, Kirk (2003), 'The consequential complexity of history and gratuitous evil', Religious Studies, 36, 65-80.
Review: 'Humble Apologetics,' Philosophia Christi, 5, No. 2, 2003.
 Experience:
Summer 1976: Geological Assistant, Manitoba Geological Survey, Mapping
Summer 1977: Engineering Assistant, Electrical Department, City of Penticton
Summer 1978: Programmer, National Defence Research, Underwater Acoustics
1979-1983: Pratt & Whitney, Experimental Test Engineer
1983-1994: Power to Change- Students, Student Advisor
1994-present: Power to Change-Students, Researcher and Speaker
2010-present: post doctoral research, protein structure analysis, Dr. David Chiu, University of Guelph