Angel Boy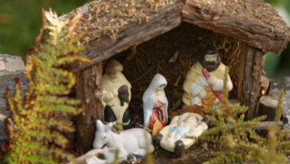 We heard shrill shouts and the dull thud of coconuts hitting the wall. From granny's bedroom where my brother and I were supposed to be sleeping, we listened to the drunken brawl pitting my mother against my aunt. After my mom ducked the coconuts, my aunt pulled a knife on her. Mom retreated behind a locked door, but kept the stream of insults flowing.
Outside, thick snowflakes floated in the silent Christmas sky. "Peace on earth," the angels had sung 2,000 years ago. But I didn't believe them, lying there terrified, my head buried in a pillow.
Earlier that night, we had gone to church. My family knelt in silence, as if peace were almost possible. From the life-size manger scene, a porcelain baby Jesus beamed a serene, painted smile. But my mother's breath told me liquor already coursed through her veins. Baby Jesus' saintly smile wouldn't have stopped any of what took place that night. He was just a lifeless doll in his wooden manger.
And so it went, one dreadful Christmas after another. We had all the trappings in place: the toys, the turkey, the tree. But without fail, a few drinks too many fuelled the family feuds and ruined our Christmas.
Eventually, I moved far away from home, got married and had a daughter. Every year, I vowed we would have a simple celebration, the perfect holiday I never had as a child.
But even though liquor and violence no longer marred my Christmases, the seasonal bustle still disturbed the peace. On December 24, I found myself running from mall to mall, buying gifts people did not need, my frenzy hardly lulled by the Christmas carols seeping from the PA system. In January, I would still be scribbling greeting cards – purchased at a post-holiday sale – for those dear, distant friends and relatives.
"Oh, Not again!" I moaned whenever Christmas rolled around. So last year, I was delighted to discover I was going to have a baby in December. Here was the excuse to skip Christmas and dispense with the gifts, cards, and other seasonal exertions.
According to plan, my son Gabriel was born on December 13. But instead of warding off Christmas, as I had hoped, my little boy took me to the very heart of it.
It happened on Christmas Eve, when my family went to see the children's musical put on by our church.
In the darkness, Gabriel on my lap, I watched the familiar story unfold. "No room," the Bethlehem innkeeper told Mary and Joseph. The weary travellers found refuge in a stable, just in time for Mary to give birth to a boy – the Son of God.
Singing with exuberance, the children on stage bopped around Mary, who was cuddling a swaddled plastic doll. "I should have let her borrow my baby," I thought idly. And then, it dawned on me. Mary's son Jesus had been a baby boy just like the little guy in my arms.
Suddenly, baby Jesus came to life for me. Gone was the plastic doll. Gone were the porcelain Jesuses of my childhood. He was no longer a well-painted figure with a shining halo, a peach complexion and a maddening smile, but a real baby – soft, tiny, with a hazy gaze and wrinkled skin. A baby who needed to be nursed, diapered, rocked and kissed.
What an amazing thing! God had become human. He left the magnificence of heaven for a makeshift bed in a stable full of hay and manure. He made himself vulnerable so that all people would know God was not too great or too remote to be touched by human love.
As the play ended, I understood Christmas as an invitation from the baby Jesus to love Him from the depth of my flawed human heart, just like I loved my Gabriel.
The audience applauded and the lights came back on. People slowly left, but before I joined them, I gave Gabriel a happy hug.
My little guy with the angel's name. He helped me grasp the essence of Christmas and understand that the baby in the manger was real. That night, the peace I had always longed for filled my heart.
Take a look at your life.  How would you describe it? Contented? Rushed? Exciting? Stressful? Moving forward? Holding back? For many of us it's all of the above at times.  There are things we dream of doing one day, there are things we wish we could forget.  In the Bible, it says that Jesus came to make all things new.  What would your life look like if you could start over with a clean slate?
Living with hope

If you are looking for peace, there is a way to balance your life. No one can be perfect, or have a perfect life. But every one of us has the opportunity to experience perfect grace through a personal relationship with God through His Son, Jesus Christ.
You can receive Christ right now by faith through prayer. Praying is simply talking to God. God knows your heart and is not so concerned with your words as He is with the attitude of your heart. Here's a suggested prayer:
Lord Jesus, I want to know you personally. Thank you for dying on the cross for my sins. I open the door of my life to you and ask you to come in as my Savior and Lord. Take control of my life. Thank you for forgiving my sins and giving me eternal life. Make me the kind of person you want me to be.
Does this prayer express the desire of your heart? You can pray it right now, and Jesus Christ will come into your life, just as He promised.
Is this the life for you?
If you invited Christ into your life, thank God often that He is in your life, that He will never leave you and that you have eternal life. As you learn more about your relationship with God, and how much He loves you, you'll experience life to the fullest.
Story from A Christmas Digest, © 1998, reprinted with permission