Freed From Religion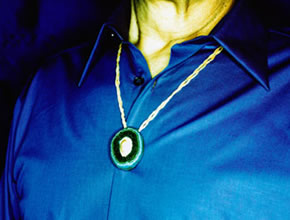 Growing up, I remember having a very free, happy life. I was loved and taken care of by my family. That all changed when I was seven years old. My father put me on an airplane and sent me to a residential school far from home. In that one day, all those years of being loved, those years of peace and security, were ripped apart. I was devastated. I felt that no one loved or cared about me anymore. I thought my parents had given me away.
As a result, I grew up with a lot of anger and hatred inside. I was constantly searching for love. I wanted to know that someone cared about me. As an adult, I was determined to never let anyone hurt me again. I vowed I would be successful and never defeated. I took that attitude with me when I became the leader of my people.
Road to success
I grew up watching my father as chief of our community. People had great respect for him as a man of wisdom, leadership and integrity. He began to groom me to take his place as leader of our community and, eventually, the Cree tribe in northern Quebec.
I became chief of our Cree community when I was 21. Around that time many preachers and evangelists wanted to come to the reserve to share the gospel message. I tried to stop them from coming because as a child I had learned that God was a menacing, huge, punishing being. I did not want a relationship with that type of God.
Drawbacks to success
Four years later I became the first Grand Chief of the Cree Grand Council. I used this position to help my people develop. We modernized villages, built houses and schools, and encouraged health and economic development. I was very successful in this position. But like all successes, there are drawbacks.
I became very prideful. Alcohol and drugs took their toll. I lost contact with my wife and children. I knew I had to do something. Despite the success, there was a void in my life. I had no sense of accomplishment.   I had no peace and I all I felt was emptiness.
The change
During the latter part of my term as Grand Chief, things got really bad. I cried out to God. I asked Him to come into my life and forgive me for my sins.
Things changed drastically after that. I no longer had the desire for alcohol. My wife and I were reconciled, our dying son was healed, and our community was changed as more people asked Jesus into their lives. I learned that God is a loving Father. I learned that He is a forgiving and healing God and that you can have a relationship with.
Now I know that through Christ people can be changed. If you feel like you are not going anywhere, like you are stuck in a rut, and you are tired of religion, ceremonies and rituals, open your heart and let a living God touch you and begin to develop a relationship with Him. You will never be the same again.
Take a look at your life.  How would you describe it? Contented? Rushed? Exciting? Stressful? Moving forward? Holding back? For many of us it's all of the above at times.  There are things we dream of doing one day, there are things we wish we could forget.  In the Bible, it says that Jesus came to make all things new.  What would your life look like if you could start over with a clean slate?
Living with hope
If you are looking for peace, there is a way to balance your life. No one can be perfect, or have a perfect life. But every one of us has the opportunity to experience perfect grace through a personal relationship with God through His Son, Jesus Christ.
You can receive Christ right now by faith through prayer. Praying is simply talking to God. God knows your heart and is not so concerned with your words as He is with the attitude of your heart. Here's a suggested prayer:
Lord Jesus, I want to know you personally. Thank you for dying on the cross for my sins. I open the door of my life to you and ask you to come in as my Savior and Lord. Take control of my life. Thank you for forgiving my sins and giving me eternal life. Make me the kind of person you want me to be. Amen.
Does this prayer express the desire of your heart? You can pray it right now, and Jesus Christ will come into your life, just as He promised.
Is this the life for you? If you invited Christ into your life, thank God often that He is in your life, that He will never leave you and that you have eternal life. As you learn more about your relationship with God, and how much He loves you, you'll experience life to the fullest.