Success in the Computer Technology Industry
Profile on: Patrick P. Gelsinger, Senior Vice President and Chief Technology Officer, Intel Corporation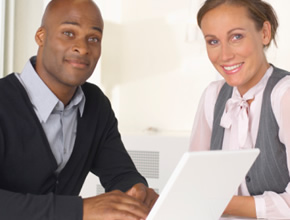 Ron Smith, the man who interviewed Pat Gelsinger for his first job at Intel over two decades ago, still has the report he wrote up on the brash 18-year-old:  "Smart, arrogant, aggressive – he'll fit right in."
While these qualities initially launched Pat's career at Intel, the largest manufacturer of computer microprocessors in the world, they nearly did him in as he drew near to the top.
Knew what I wanted to do
"The first time I touched a computer, I knew I wanted to be in computers," Pat says.
When Intel offered him a job straight out of college, Pat jumped at the opportunity. Hired as a technician, Pat was disappointed to learn his job basically involved being a gopher for the engineers.
"The only career aspiration I had when I started at Intel was to be the engineer telling the technician what to do as opposed to the other way around."
Pat planned to achieve this goal through education. Two months after starting at Intel, he began working on his bachelor's degree in addition to his full-time job. He planned to eventually finish his master's and PhD as well.
Hard questions
However, Pat's plans for conquering Intel were somewhat derailed when he met his future wife, Linda. On the plus side, Pat's feelings for Linda, a devout Christian, caused him to ask some hard questions about his lifestyle. Although he claimed to be a believer, his lifestyle told a different story. Pat realized it was time to get serious about his faith, and in 1980, he committed his life to the Lord. But even before he and Linda had discussed marriage, she was diagnosed with a progressive problem in her reproductive system. Unless she had children soon, she wouldn't be able to have them at all. When she broke the news to Pat, he was devastated. But he decided it was God's will to begin a family.  Thus, he added to his busy work and school schedule immediately getting started on a family.  Miraculously, Linda eventually gave birth to four children.
As Pat's family grew, his career also advanced. He even managed to finish his master's degree at Stanford and was offered a full scholarship to complete his PhD. Not wanting to pass up the opportunity, Pat resigned from Intel. But Intel wasn't going to let him go that easily. They promised Pat that if he stayed at the company, they would make it worth his while. True to their word, they made Pat design manager of the 486 computer chip and, at age 32, named him as the youngest vice president in Intel's history.
Wakeup call
Pat's new responsibilities also included heading up the videoconferencing and Internet communication division. However, after four years of development, the project was deemed a failure. This served as a major wakeup call for Pat.
"You're praying all the time, 'Why God? What did I do wrong?' Clearly, you're struggling with your own pride."
Pat now looks at the experience as God's way of extracting some of that pride from his life, enabling him to work on the aspects of his character that were preventing him from being as influential for the kingdom of God as he might have been.
Today, as one of the most influential people at Intel, Pat says the first real turning point in his life was when he committed his life to Christ at age 18.
"It was like God reached in and plucked me from the path I was on and put me on a new path where he can use me in a very effective and powerful way."
Is something holding you back from success? Perhaps it's time you asked Jesus what it is. If you don't know Jesus, we encourage you to pray the following prayer:
Lord Jesus, I want to know You personally. Thank You for dying on the cross for my sins. I open the door of my life and receive You as my Savior and Lord. Thank You for forgiving my sins and giving me eternal life. Take control of my life. Make me be the person You want me to be. Amen.
Pat Gelsinger's career with Intel, the world's largest computer chip maker, reads like a fairy tale: 15 promotions in 15 years. Along the way, he managed the development of the Pentium Pro and other microprocessors. In 1990, PC Magazine voted him "Person of the Year." At age 32, he became the company's youngest Vice President. He was Intel's first-ever Chief Technology Officer. At age 40, he became a Senior Vice President.
Pat has also authored more than 20 technical publications. He holds six technical patents. He has three degrees in Electrical Engineering: an AA degree from Lincoln Technical Institute; a BS from Santa Clara University; and a MS from Stanford University.
Among many outside interests, Pat is an elder in his local congregation, speaks regularly on work life balance, and is the owner of Wazira LLC – a basket import business to support development of the Turkana peoples of northern Kenya. He also enjoys skiing, golf, biking, playing racquetball and spending time with his wife and kids. Pat is married to Linda and they have four children.