Can Love Go the Distance?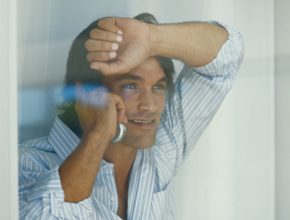 They say that "absence makes the heart grow fonder", but I'm not convinced that's true. I think that love makes the heart grow fonder, distance just gets in the way.  If you love someone, you're supposed to want to be with them.   Distance is not an insurmountable obstacle, but I have a hard time believing it actually helps.
Distance is exactly the opposite of what most couples hope for.  When you're in a relationship with someone the goal is to get closer – to get to know each other better, to love each other deeper.  Distance affects communication and makes it far too easy for misunderstandings to happen.
Going the distance
I remember years ago a friend of mine left her boyfriend back east to go to a school on the west coast.  A few months later he flew out visit.  She thought he was coming to break up with her, but he arrived with an engagement ring in his pocket.  Their expectations could not have been more different.  If they had been able to spend more time together she would have seen that he was getting very serious and he would have realized that she was already walking away.
So what happens when you have no choice but to be separated? For many couples work, school or military service forces them apart.  Fortunately love can stretch over any distance, if you're willing to put in the work.  When you don't see each other over breakfast you have to be intentional about making contact every day.  You won't just stumble into each other, you have to make plans.
Our recent article, "Long Distance Love" offers four practical ways to keep your love close even when you find yourself on the other side of the country, or even the other side of the world.  Take the time to stay in touch and your love can survive anything geography can throw at it.  If you wonder if it's too late for you, take heart.   Your relationship might be more fixable than you realize.  (Read: Is your marriage fixable?)  For even more ideas to keep your relationship strong try our free life lesson: Rekindle the Romance.
What do you do to keep your relationship strong?