Guest Blog by Dr. Paul Chamberlain: "Do All Truth Claims Come With A Burden Of Proof?"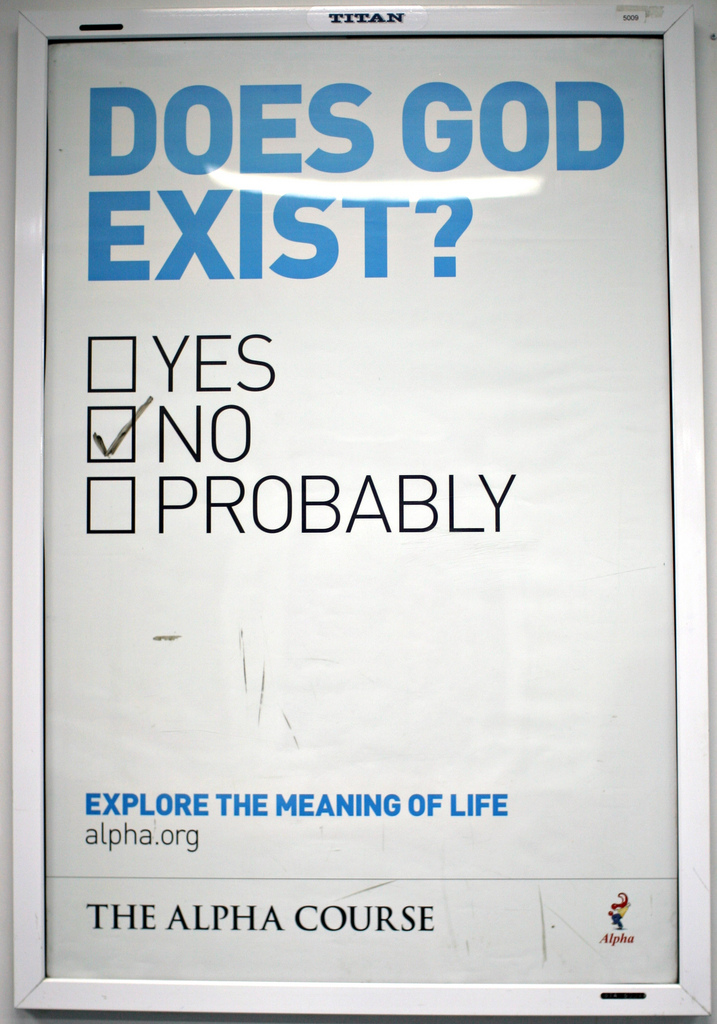 Guest Blog by Dr. Paul Chamberlain
Michael Horner has already written about the debate he and I participated in at the 2012 convention of the North American chapter of Atheist Alliance International in Kamloops, British Columbia.  Let me comment on one issue that became a point of dispute in the debate: burden of proof.  It's the question of who has to prove what in order to support their position.
Michael and I began our opening arguments with the claim that both theism and atheism make important truth claims, and as such both have an equal burden of proof to give a reason to believe their truth claims.  We then called upon the atheist debaters to put arguments on the table for their position.
One of the atheist debaters responded passionately that this was not true.  He contended that atheism's truth claim is a negative one, i.e., there is no God, and as such there is no burden to prove it.  The burden of proof is only on the person making the positive claim, the theist, not the one making the negative claim.
"Is this always true," we asked in cross-examination.  "Yes" was his unequivocal reply.  When asked if a person making the negative claim, "the Holocaust did not occur" has a burden of proof for that claim, he wavered slightly and stated that if the person is saying he does not believe the Holocaust occurred, (i.e., the absence of a belief in the Holocaust) he has no burden of proof; however, if he is saying he believes the Holocaust did not occur, then he does have a burden of proof.  We then pointed out that this amounted to an admission by him that key negative claims do have a burden of proof after all.  We then turned our attention to the question of theism vs. atheism.
I'll say more about the debate later but it's important to realize how important this question of the burden of proof is in the debate over the existence of God.  Atheists have, for some time now, been working hard at shifting the burden of proof entirely to theists in this way.  Richard Dawkins admits, surprisingly easily, that no one could prove atheism (not something conceded by all atheists) but then insists that to ask for such a proof for atheism is absurd.  No such proof is necessary.  It is not up to atheists to prove God does not exist.  It is up to theists to prove He does.

Why is this so?  To support his contention regarding burden of proof, Dawkins refers to fictional characters such as the tooth fairy, Mother Goose, the Flying Spaghetti Monster of cyber space, and even Bertrand Russell's famous celestial tea pot.  It would be absurd, he says, to call on people who do not believe in these fictional characters to prove their non-existence.  The burden of proof is on those who do believe in them.  Similarly, those who believe God exists are the ones who have the duty to prove He does, and not the other way around. [1] (Dawkins, God Delusion, p. 51-54)
What shall one say to this line of reasoning concerning burden of proof?  Maybe the first question should be, why should anyone think Dawkins is correct in thinking the burden of proof is strictly and always on the person who makes a positive claim (e.g., God exists), and never on those making a negative assertion (e.g., God does not exist)?  The fact is that every truth claim, whether positive or negative, has a burden of proof since it is a claim to know something and knowledge can properly be defined as justified or warranted true belief.
When it comes to the question of God, clearly both theists and atheists are claim to know something is true.  "God exists," says the theist.  "He does not," replies the atheist.  Both claim to tell us something important about the world.  One says it has God in it; the other says it does not.  It is hard to see what it is about negative truth claims that frees them from having to be justified or supported.
Consider what happens to Dawkins' contention when we simply substitute other illustrations in place of his fictional characters.  What if a friend told you he did not believe pineapples or rhinoceroses exist or that George Washington, Winston Churchill, or Nero had ever lived as real historical figures?  Suppose he went further and insisted that the World Trade Centers were not attacked on 9/11 and that even the Holocaust never occurred?
Suddenly things seem different.  Notice, these are all negative truth claims about some state of affairs in the world.  They tell us something is not the case and, in this sense, resemble the atheist's truth claim that there is no God.  Does their negativity, alone, free your friend from having to give a reason for thinking they are true?  Hardly.
These examples show that the burden of proof does not hinge merely on whether an assertion is positive or negative, as Dawkins seems to assume.  But why then does it seem to do just that in Dawkins' illustrations above concerning the tooth fairy and Mother Goose?  The reason is because he has restricted his illustrations to trivial characters which were intended to be fictional in the first place and are recognized as such by anyone talking about them.  He has strategically used these fictional characters because his argument only works with characters such as these.  No one is asking for evidence that the tooth fairy does not exist because no one ever thought it did.
It is not the negativity of the claims that release them from needing any proof but their triviality.  When we simply substitute normal historical characters such as Plato, Nero, Winston Churchill or George Washington, or serious historical events like the Holocaust or 9/11 in place of these fictional characters, it becomes clear that anyone denying the existence of these people or events has a burden of proof equal to, and in some cases greater than, the person claiming they do exist.
In the Kamloops debate, our opponent "clarified" his position by asserting that he was not saying he believed there is no God but only that he did not believe there is a God?  We will consider this move in the next post.

What do you think of people comparing belief in God to belief in the tooth fairy and other trivial examples?  Is it a fair comparison?

---
[1] Dawkins, God Delusion, p. 51-54.